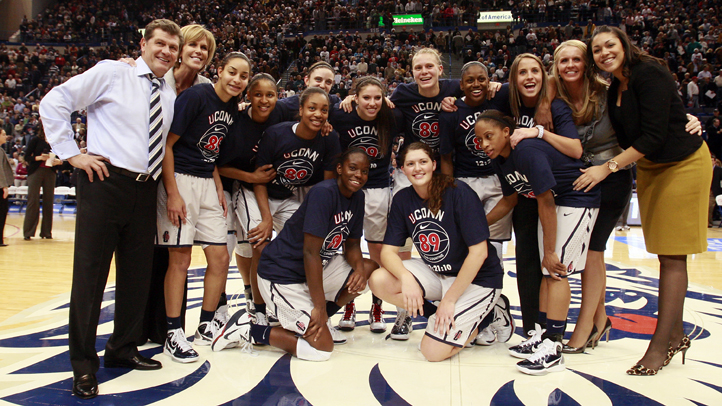 The Big East Women's Tournament has been at Hartford's XL Center for the last eight years, and now it will remain there for another two years, the Big East announced Tuesday.

There had been some discussions of moving the tournament to the Mohegan Sun, a venue that has hosted hundreds of college games, but there was resistance from some conference schools, and after much metaphorical gnashing of teeth, the tournament will remain in Hartford.

"I was thrilled to hear that the Big East Conference and the XL Center reached an agreement to play our conference championship in Hartford," UConn coach Geno Auriemma said in a prepared statement.

"We are obviously very familiar with the XL Center and have had a great deal of success there. The XL Center staff is always accommodating and has helped the Big East staff run a first-class event for the last eight years."

The Big East has said that they would like to increase attendance at the tournament games, not just the finals, but the early-round match-ups, too. The Hartford Courant's Jeff Jacobs writes about just that, noting specifically:

"There was a lot of bragging Tuesday how since the Big East parked at the XL Center in 2004 the women's tournament has averaged bigger crowds than any conference in the country. This is a case where the numbers speak louder than the truth. There have been bumps. Out of the gate, the conference tried gouging $150 for an all-session package and while it didn't kill the golden goose, it riddled that goose with bullets. The record average of 10,322 in 2004 dropped wildly to 8,268 in 2005. Fan ire was raised. Tickets were lowered to $99."

Auriemma hasn't been afraid to call out fans in the past for poor attendance, but there's no reason to think that UConn supporters would have any interest in watching, say, Georgetown vs. St. Johns just because it's taking place in Hartford. Reasonably priced tickets certainly would make it more attractive, however.

For now, though, the Big East tourney remains in Hartford. And while it was a sometimes contentious process, it was also the right move. "As the most attended conference basketball tournament in the country, we think there are great possibilities and look forward to further enhancing the championship experience for our players and fans," said Danielle Donehew, Big East associate commissioner for women's basketball.