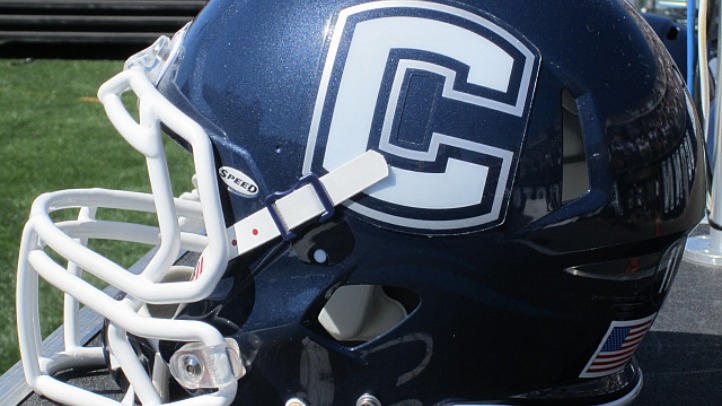 Physically, Geremy Davis is a cross between a tight end and a fullback. At 6-1, 214 pounds, the sophomore wide receiver seems better equipped to mix it up with defensive ends and linebackers than to spend most of his time downfield warding off cornerbacks and safeties. While one game isn't much of a sample size, Davis sure looked like first-year quarterback Chandler Whitmer's favorite target.

Against UMass, Davis hauled in five passes for 79 yards and made even the difficult catches look effortless. Back in April 2011, we wrote about Davis, who played on the same high school basketball team as Jeremy Lamb in Norcross, Georgia. At the time he was understandably raw, something coach Paul Pasqualoni acknowledged at the time.

"There's a lot to it," he said. "It's not something that's just easy to do; it takes time and a commitment to do it. We're making progress, we're not where we need to be but we've got time to do it and we're headed in the right direction."

It's too early to proclaim that Davis has arrived, but he's certainly much improved over 2011 when he caught six passes all season. Clearly, Pasqualoni's confidence in the sophomore wideout has grown too.

"I've just been trying best to treat the practice reps as game reps and just focus on the opponent, utilize what I can and take it to the game," Davis told the Hartford Courant's Desmond Conner Tuesday.

"Last year, that was my first year on the field and my confidence wasn't as high as I thought it was but now I'm playing college football like I've been playing it for a year now so I've just got more confidence in myself and I feel more comfortable out there as well," he continued. :I want to do whatever I can for coach to trust me, just do my role do what they tell me to do. I always stress even if that's in the run game, making a big block for the running back, wide receiver screen or even making a play deep down field I just want to do my part to contribute to this team."

And it's that commitment to other facets of the game outside of pass-catching that has Davis' star shining early this season. There's a long way to go and much tougher tests than UMass on the schedule -- starting Saturday when NC State comes to town, and then seven days later when UConn travels to Maryland to face an old foe: coach Randy Edsall.