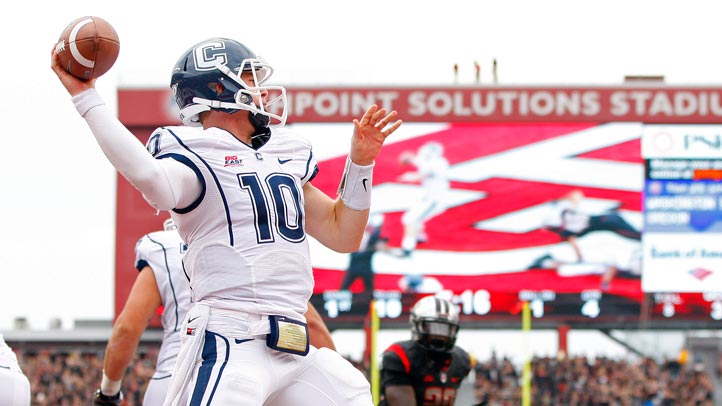 In recent years, much has been made of the quarterback situation, and what -- if anything -- coach Paul Pasqualoni could do about it. The Huskies endured back-to-back 5-7 seasons in no small part because the offense -- and the quarterback -- couldn't put points on the board. Last season, redshirt sophomore Chandler Whitmer showed flashes of potential, but the running game was non-existent and the play calling was suspect.

In the offseason, Pasqualoni hired TJ Weist as the offensive coordinator and he'll be tasked with helping Chandler and this offense get on track. And the Huskies will need to score a ton of points now that one of the nation's best defense has lost players to graduation and the NFL. One area UConn can improve: wide receiver. Michael Smith signed with the Texans as an undrafted free agent last week, but Whitmer's favorite target, Geremy Davis, returns in the fall. He'll be joined by Boston College transfer Shakim Phillips, who showed big-play potential last season.

Details via SNY.com's John Silver:
Davis and Phillips competed for time last year with Davis leading the team with 44 catches and 613 yards while Phillips shook off the rust with 32 catches and 399 yards after coming over as a transfer from Boston College and sitting out a year. Davis earned the No. 1 slot and Phillips showed just enough improvement and promise during the year to put the Huskies' wide receiver corps with two athletic, big and experienced receivers going into 2013.
Davis is built more like a tight end and can be considered a down-the-seam, middle-of-the-field threat. Phillips, meanwhile, has game-changing ability, it's just a matter of everything coming together on the offense to put him in position to make plays. And that's where Weist comes in. After two years with George DeLeone and one of the least efficient offenses in the nation, the hope is that Weist can find a way to get the ball to his playmakers and let them, well, make plays. That starts with Whitmer and if all goes well, will end with Davis and Phillips making plays in the end zone.