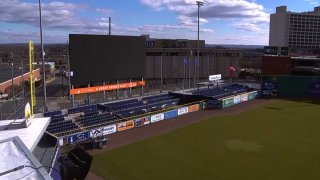 There are some changes happening at the home of the Hartford Yard Goats.
The Dunkin' Donuts Park sign and the giant coffee cup above left field were taken down on Monday.
The team is working with Dunkin' to rebrand the ballpark Dunkin' Park in time for Opening Day, according to General Manager Mike Abrahamson.
"This ballpark runs on Dunkin' and we value our long-term partnership with the Dunkin' brand and their local franchisees," Abrahamson said.
Dunkin' dropped Donuts from its name in 2018 as the chain turned its focus to beverages and breakfast items.