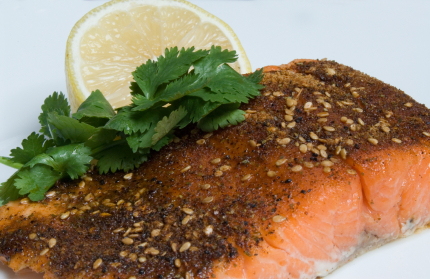 Ingredients for Salmon
Salmon 4-6 oz.
Kosher salt 1/2 tsp.
Black pepper 1/2 tsp.
Olive oil 1 Tbsp.
Butter, lightly salted 2 tsp.
Lemon butter sauce 1 1/2 oz.
Salad oil 3 Tbsp.
Capers, crispy 1 Tbsp.
Chopped parsley, dry 1 tsp.
Ingredients for Lemon Butter Sauce
Butter, lightly salted 6 oz.
Shallots, minced 1/2 ea.
Garlic, minced 4 cloves
Bay leaf 1 ea.
White wine 1/4 cup
Lemon juice, fresh 1 1/2 Tbsp.
Heavy cream 1/2 cup
White pepper pinch
Chopped parsley 1 tsp.
Directions for Broiled Scottish Salmon
Season both sides of the salmon with the salt and pepper. Heat up the olive oil in a large sauté pan set on medium high heat then sear the salmon for 3-4 minutes on each side to a medium temperature.
Prepare the lemon butter sauce and reserve warm.
Place the warm cooked spaghetti squash in the center of a warm serving plate. Set the salmon around the spaghetti squash. Ladle the the lemon butter sauce over the top of the salmon, squash on the plate.
Heat the salad oil in a small sauce pan set on medium high heat. Add the capers and cook until crispy 30-45 seconds. Remove with a slotted spoon then place on top of the salmon and on the plate.
Garnish with chopped parsley.
Directions for Lemon Butter Sauce
Melt 2 Tbsp. of butter in a sauce pot set on medium high heat. Add the minced shallots, minced garlic and bay leaf and cook for 2-3 minutes until translucent.
Add the white wine and lemon juice and cook until almost dry. Add the cream and white pepper and reduce to about half. Cut the butter into 1" pieces and slowly whip into the cream reduction.
Strain the sauce through a mesh strainer into a container then add the chopped parsley. Hold warm at 110º.