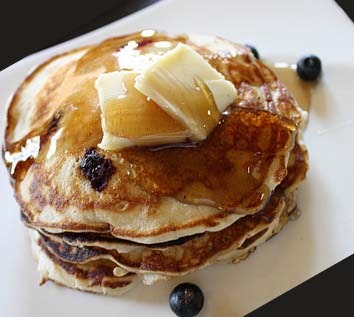 2 Cups Ricotta Cheese
4 Eggs-large
1 Orange-zested-reserve juice to flavor berries
1 ¼ Cups Buttermilk
1 ½ Cups All Purpose Flour
¼ Cup Sugar
2 Tbsp. Baking Powder
½ tsp. Salt
2 Cups Fresh Berries-any favorite or mix
¼ Cup Sugar
Reserved Orange Juice
Vegetable Spray as Needed
Preheat griddle to 350 degrees f. In a large bowl whisk together the cheese, eggs, orange zest and buttermilk until very smooth. In a separate bowl, sift the flour, sugar, baking powder and salt. Add the flour to the cheese mixture and stir with a rubber spatula until just combined.
In a separate bowl, combine the berries, sugar and orange juice. Let macerate while making pancakes.
Spray the griddle with vegetable spray and add batter in about ¼ cup amounts. Let cook for about 2 minutes on each side until golden. Repeat with remaining batter.
Serve garnished with the berries, powdered sugar, and maple syrup if desired. Enought for four.