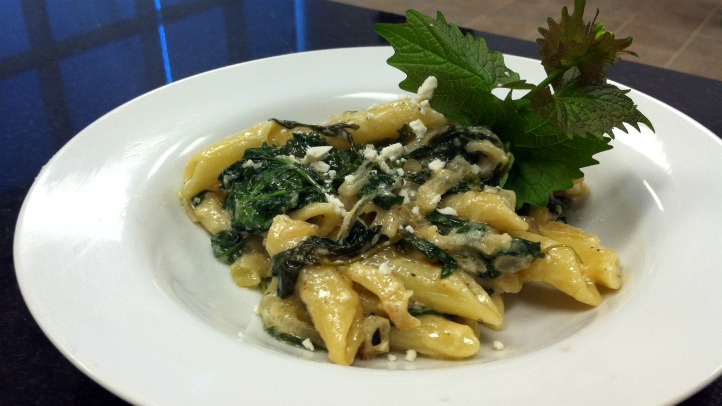 1/2 Lb. Cavatelli Pasta-boiled until tender in salted water, drained
3 Tbsp. Extra Virgin Olive Oil
2 Cups Onions-thinly sliced
4 Garlic Cloves-sliced thinly
4 Cups Fresh Wild Garlic Mustard Green Leaves-or substitute arugula
1 Cup Crumbled Feta Cheese
Salt, Black Pepper, and Parmesan Cheese to taste
Heat a sauté pan on medium high heat. Add the olive oil and the onions. Cook stirring for about 2 minutes until softened and slightly golden brown. Add the garlic, and cook 30 seconds, but do not brown.
Add the wild garlic mustard greens and toss thoroughly to wilt the greens. When almost wilted, add the hot pasta, and feta cheese and toss well. Season to taste with salt and pepper if necessary.