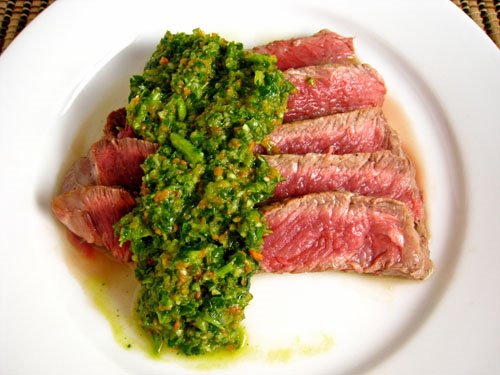 1 large bunch of fresh, flat-leaf parsley, washed
1/2 cup fresh cilantro
1/4 cup chopped red onion
3 cloves fresh garlic
juice of half of a lime
1/2 cup olive oil
Put the parsley, cilantro, red onion, garlic and lime juice in the bowl of a food preocessor fitted with the steel chopping blade. Pulse until ingredients are roughly chopped. With food processor running, slowly pour in the olice oil. Transfer sauce to a bowl. (The Sauce can be made in advance, preferably a couple of hours before serving. Cover and set aside in a cool palce or refrigerate and remove from the fridge a half hour before serving. Stir well to blend ingredients.) Spoon sauce onto grilled steaks, chicken or fish. Makes about 3/4 cup.