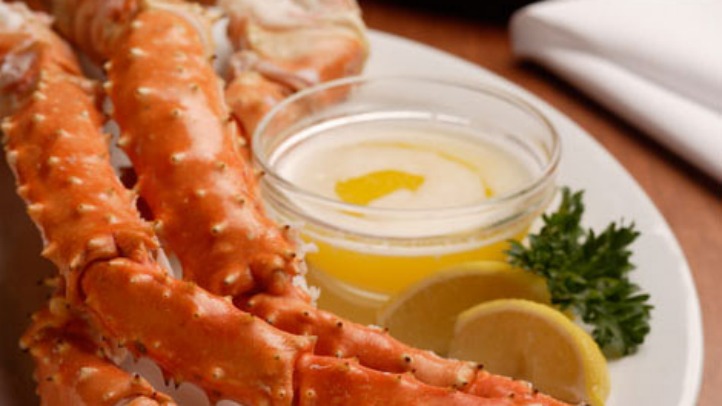 ½ pound Maryland Lump Crab Meat
For The Vinaigrette
1 cup Tomato Juice
1/4 cup Horseradish
1 tablespoon Dijon Mustard
1/2 teaspoon Black Pepper
1 teaspoon Sugar
½ teaspoon Celery Salt
2 tablespoon Lemon Juice
1 tablespoon Worcestershire Sauce
3 dashes Tabasco
2 tablespoons Olive Oil
For The Pickled Onions
1/2 cup Thinly Sliced Onions
1/4 cup White Vinegar
pinch Sugar
pinch Kosher Salt
Optional Garnishes
1/4 cup Grey GooseVodka
Katifi (shredded filo dough found frozen in Middle Eastern markets, bake and crumble on top)

Mix all of the vinaigrette ingredients together in a medium sized bowl. This can also be done in a martini shaker and poured from it if you are looking to impress your friends. Slice the onion and put it in a shallow dish or bowl. Top with vinegar, salt, and sugar and let sit for 10 minutes. To assemble divide the crab evenly in 6 martini glasses. Place several pickled onion slices on top of the crab meat. Pour ¼ cup of the vinaigrette over top of each glass of crab meat and garnish each with a tablespoon (or more) of good quality vodka. Top with a 2 tablespoons of katafi.
Leftover vinaigrette and pickled onions can be refrigerated for up to two weeks.
Let the party begin.
Makes 6 portions.