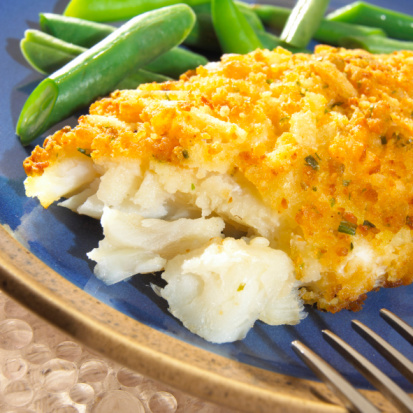 1 Cup Panko Bread Crumbs-or your favorite type
2 tsp. Orange Zest
1 tsp. Lime Zest
4 White Fish Fillets-cod, flounder, etc. with no skin or bones
½ Cup All Purpose Flour-spread out onto a plate for coating fish
2 Eggs-beaten 2 Tbsp. water in a medium size bowl
3 Oranges-peeled, segments removed, cut into ¾" pieces
2 Tbsp. Red Onion-finely chopped
2 tsp. Jalapeno Pepper or other favorite hot pepper-finely chopped
1 Tbsp. Lime Juice
1 Tbsp. Fresh Cilantro-chopped
Vegetable Spray as Needed
Salt and Pepper to Taste
· Preheat oven to 400º f. Make breading by combining the bread crumbs, orange zest and lime zest. Season to taste with salt and black pepper and lay the crumbs out onto a plate for breading fish. Coat both sides of the fish fillets in the flour, shaking off excess. Dip each fillet in the beaten egg mixture, dripping off excess. Coat both sides of the fish fillets in the bread crumb mixture, pressing gently to adhere. Place fish fillets on a cooling rack placed over a sheet pan and spray both sides with the vegetable spray until lightly moistened. Place in the oven for about 10-15 minutes or until the internal temperature reaches 145ºf. The fish should feel firmer and flake with a fork when done.
· While fish is baking, make salsa by combining the orange segments, red onion, jalapeno, lime juice, and cilantro in a bowl. Place the cooked fish fillets on a serving plate and top with the salsa. Enjoy!
CT Culinary Institute's Website: www.ctculinary.edu