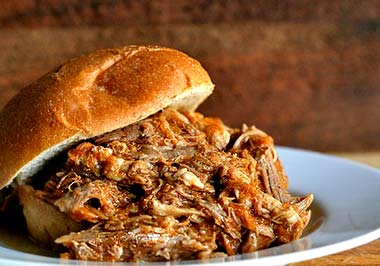 To Serve Six

1 Lb. Pork Shoulder or Picnic Roast-cut into 1" cubes
2 Tbsp. Vegetable Oil
½ Cup Onions-chopped
2 Each Garlic Cloves-rough chopped
¼ Cup Apple Cider Vinegar
As Needed Water or Broth
1 tsp. Liquid Smoke- (optional)
As Needed Barbecue Sauce
To Taste Salt and Black Pepper
6 Hard Rolls or Sesame Seed Sandwich Buns-warmed in oven

• Preheat oven to 325°f. Pat dry pork shoulder steaks, and season both sides with salt and black pepper. Heat wide, oven proof pan on high heat, add vegetable oil and add pork cubes, browning on all sides. Remove pork to plate and in same pan, add the onions and garlic. Cook stirring for 30 seconds to soften. Add the cider vinegar, scraping up any bits stuck to the pan. Add enough water to the pan to come up 1/3 up the height of the pork cubes. Bring the water up to a simmer.
• Cover the pan and place in the oven for about an hour or until the meat is very tender.
• When tender, remove meat from pan and shred up in very small bite size pieces. Skim any fat from the surface of the liquid and boil down until the liquid becomes slightly thick. Return shredded meat back to sauce. To assemble sandwich, place the meat on the bottom of 6 buns. Drizzle with your favorite barbecue sauce, add the roll top and serve!

Lincoln Culinary Institute's Website: www.lincolnculinary.com