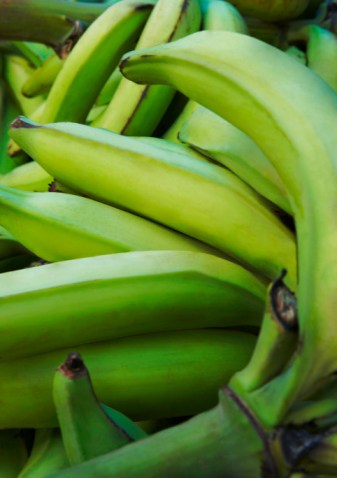 1 each, plantain, peeled and sliced into ½ thick slices
Vegetable oil for frying
Adobo or salt and pepper to season
Heat deep fryer to 350°F. Add plantains, only a few at a time, splashing away from you, and cook until slightly softened and a light golden brown.
Drain on paper towels.
Let cool slightly, and flatten with your with a plate until about a quarter-inch thick.
Fry a second time until a medium golden.
Drain on paper towels, season with Adobo.
Top with mayonnaise sauce, fruit salsa and sour cream and enjoy!

Mayonnaise Sauce:
½ cup mayonnaise
2 tbsp. ketchup
To taste hot sauce
Whisk together and use to top fried plantains.

Tropical Fruit Salsa:

1 cup mango, papaya, pineapple, banana, any mix-peeled and ¼-inch, diced
1 tsp. Jalapeno pepper-finely minced
¼ cup red bell pepper, finely chopped
2 tbsp. red onion, small diced
1 tbsp. fresh cilantro, chopped
2 tbsp. fresh lime juice
2 tsp. soy sauce

Combine all ingredients in bowl. Use to garnish fried plantains.