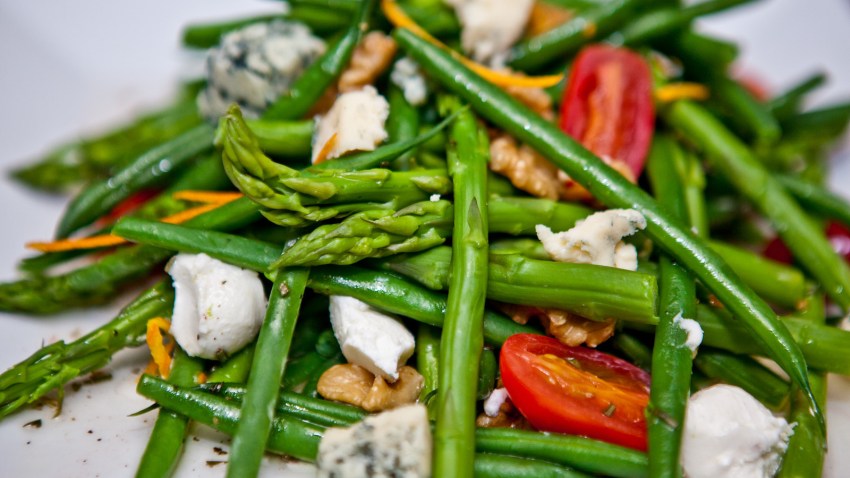 3 Cups Green Beans
1 Cup Diced Fresh Tomatoes, or Cherry Tomatoes quartered
¾ Cup Feta Cheese-crumbled
½ Cup Red Onions-sliced thinly
1 Tbsp. Red Wine Vinegar
1 Tbsp. Fresh Lemon Juice
2 tsp. Dijon Mustard
6 Tbsp. Extra-Virgin Olive Oil
2 tsp. Fresh Garlic-minced, and mashed into a paste
4 Tbsp. Fresh Basil-cut or torn into pieces
Salt and Black Pepper To Taste
To cook the green beans, bring a medium size pot with salted water to a full rolling boil, add only enough green beans as to maintain a boil (cook in small batches at a time), and boil for only about 3 minutes or until tendercrisp. When the desired tenderness is reached, remove the beans and place in bowl of ice water to stop cooking. Drain and pat dry the beans when cool and reserve for salad.
To make the dressing, whisk the vinegar, lemon, garlic, and mustard in large bowl. Drizzle in olive oil while whisking to make vinaigrette. Toss in all remaining ingredients to coat with dressing and season with salt and pepper to taste. Serve at room temperature or slightly chilled. Top with any grilled meats for a full meal. Enjoy!