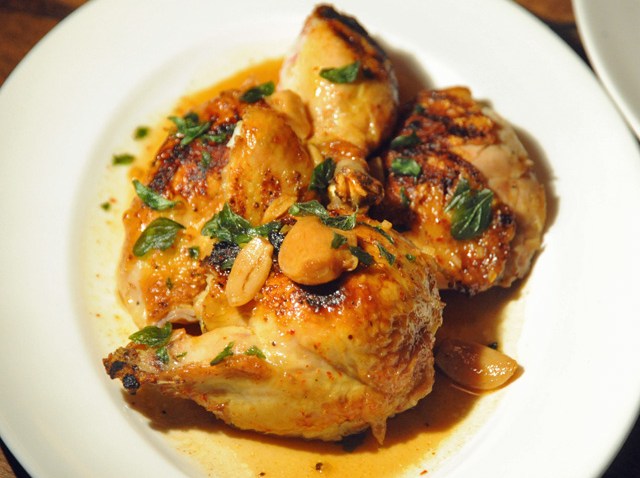 4 Chicken Breasts-boneless, skinless
2 Tbsp. Extra Virgin Olive Oil
1 tsp. Fresh Rosemary-chopped
4 Garlic Cloves-peeled and crushed
2 Onions-peeled, sliced into 1/3" thick rings
2 Tbsp. Extra Virgin Olive Oil
½ Cup Roasted Red Peppers-chopped
1 Tbsp. Chives-chopped
2 Tbsp. White Balsamic Vinegar
Salt and Black Pepper to Taste
· Marinate the chicken by coating thoroughly with the first measure of olive oil, rosemary and garlic. Place in the refrigerator for 4 hours or overnight.
· To prepare the onion relish, heat grill on high heat. Grill onion slices for about 3 minutes on each side until slightly charred and very softened. Transfer into a bowl and mix with the roasted red peppers, chives, vinegar, seasoning to taste with salt and pepper. Reserve to serve with the chicken.
· To grill the chicken, heat the grill on medium high heat. Clean and lightly oil the grill. Scrape any excess marinade off the chicken breasts and season to taste with salt and pepper. Place the chicken breasts smooth side down first and grill for about 3 minutes and turn each breast ¼ turn and grill another 3 minutes to achieve a crosshatch mark. Flip over, turn heat down to medium low and cook for another 5 minutes with the lid closed or until the internal temperature reaches 165°f measured at the direct center with a meat thermometer. Let chicken rest 5 minutes off the grill to allow juices to settle before serving. Serve with the onion relish and enjoy!