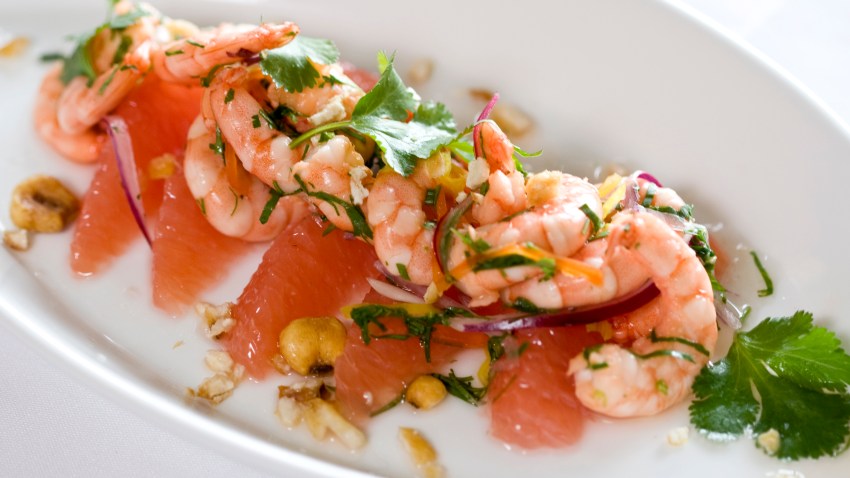 Grilled Chipotle, Honey and Lime Shrimp over a Corn Salsa
(Serves 4)
20 Shrimp-peeled, de-veined, uncooked
¼ Cup Vegetable Oil
3 tsp. Chipotle Pepper Sauce
2 Tbsp. Honey
2 Tbsp. Lime Juice
1 Cup Corn Kernels-frozen thawed, or canned drained
¼ Cup Red Bell Pepper-diced
2 Tbsp. Red Onion-diced
1 Tbsp. Cilantro-chopped
1 Tbsp. Lime Juice
Salt and Black Pepper to Taste
· Place the shrimp in a bowl and add the vegetable oil, chipotle pepper sauce, honey, and first measure of lime juice. Marinate up to one hour under refrigeration if desired.
· To prepare the salsa, combine the corn kernels, bell pepper, red onion, cilantro and second measure of lime juice, seasoning to taste with salt and pepper. Reserve.
· Heat grill on high heat, add shrimp. Cook for about 2 minutes on each side or until just cooked through. Serve on a bed of the salsa and garnish with a cilantro sprig and lime wedge. Enjoy!
Lincoln Culinary Institute's Website: www.lincolnculinary.com