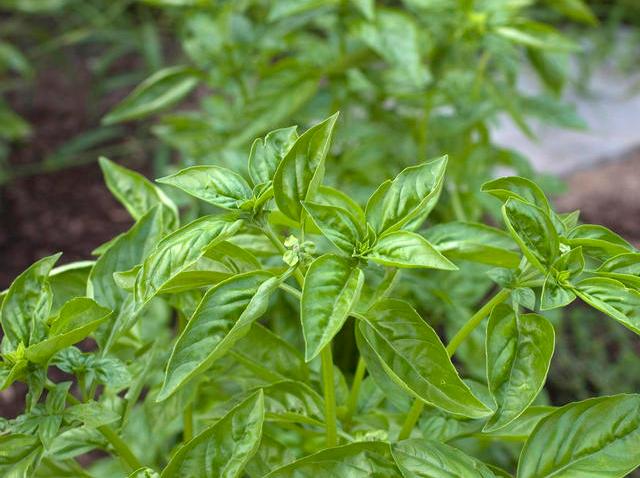 For the oil:
1 bunch fresh basil, weighing about 1/2 pound
1 cup chopped scallions
1 cup chopped flat-leaf parsley
2 cups water
1-1/2 cups oil
For the pesto:
Pureed herbs (see oil recipe)
1/3 cup pine nuts or chopped walnuts
2 tablespoons minced garlic
1 tablespoon vinegar or lemon juice
1 cup finely grated Parmesan or Romano cheese
1/4 teaspoon salt (optional)
1/2 teaspoon sugar (optional)
1 teaspoon vinegar or lemon juice (optional)
Roughly pluck the basil leaves from the stems, particularly the woody bases. You should end up with about 4 cups of loosely packed leaves. Put the basil in a bowl with the scallions and parsley. Combine. Bring 2 cups of water to a boil in a medium-sized saucepan. Season with 1 tablespoon kosher salt. Plunge the herbs into the boiling water, using the back of a large spoon to make sure every piece is submerged. Blanch for 10 seconds. No more. Quickly pour out the water into a colander. Run cold water over the blanched herbs until the herbs are cool enough to touch. Using a large spoon or your hands, squeeze the herbs dry. Place the herbs in a blender. Measure 1-1/2 cups of oil and pour into the blender. You can use vegetable, corn or olive oil, either singly or in combination. Run the blender for about a minute or so until the herbs are finely pureed. Pour the oil through a fine sieve into a small bowl. You'll catch the pureed herbs in the sieve. Use the back of a spoon and gently press the pureed herbs to draw out any excess oil. You'll end up with about 1 cup of flavored oil to use as you will. Place the pureed herbs in the beaker of a food processor. You should have about 3/4 cup or 6 ounces of pureed herbs. Heat a small frying pan over high heat. Toast 1/3 cup of pine nuts in the pan until the nuts are golden brown and fragrant, about 5 to 10 minutes. Shake the pan occasionally while toasting to keep the nuts from burning. Put the toasted pine nuts in the beaker with the herb puree. (No need to toast the walnuts if you're using them instead.) Add the minced garlic, 1 tablespoon of vinegar or lemon juice and 1 cup of finely grated cheese. Pulse the food processor to blend the pesto ingredients together. Taste carefully and adjust seasonings as necessary. You want to achieve a bright, vigorous flavor. We found our pesto needed 1/4 teaspoon salt, ½ teaspoon sugar and 1 teaspoon vinegar to be at its best.