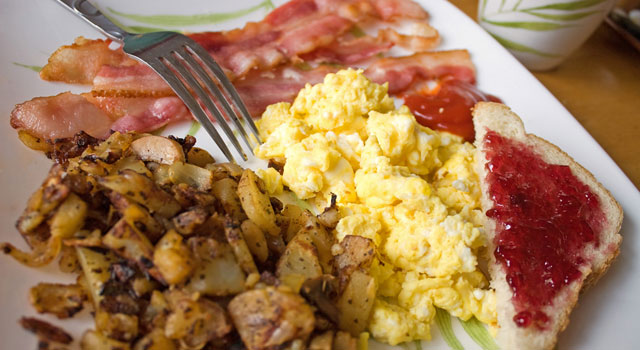 This recipe is inspired by Howard F. Kelley from Middlefield and Durham. He recently passed away, but was very influential the lives of so many being the Superintendent of Schools for CT. Regional District 13, and also as CEO of West Hartford's American School for the Deaf. Howard was best known in our communities of Middlefield and Durham as being the Superintendent who rarely called school off because of snow. Teaching was his real passion, showing us kids that were lucky enough to grow up in his neighborhood how to fish, hunt, and gather. He was an avid sportsman and forager who would then cook what he caught or gathered. Here's a simple breakfast inspired by Howard.
8 Cooked Sausage Patties or Links -(Howard would most likely have made Venison sausage)
¾ cup Onions-diced finely
2 cups Leftover Baked Potatoes-cut in ½" pieces (skin on or peeled)
8 Eggs from Local Chickens-cooked over easy
8 Whole Wheat Bread Slices-toasted and buttered, spread with Elderberry or Blueberry Jam
Using any leftover grease from cooking your sausage, sauté the onions until translucent. Add the diced potatoes and toss to incorporate with the onions. Cook over low heat to brown. Add more oilor butter as needed if the pan looks too dry. Once browned, stir lightly to brown a little more. Season to taste with salt and black pepper.
Once the potatoes are cooked, then proceed to make your toast and cook your eggs. Serve the sausage, potatoes, eggs and toast all together.