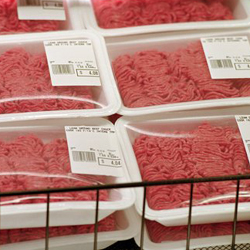 1 Lb. Ground Beef-leaner variety preferable
2/3 Cup Oatmeal-uncooked, quick or old fashioned variety, not instant
3 Egg Whites-lightly beaten
¾ Cup Ketchup
2 tsp. Worcestershire Sauce
1 Cup Onion-finely chopped, sauteed in 2 tsp. Vegetable oil until clear, cooled
Salt and Black Pepper to taste
Preheat oven to 350 degrees. In a large bowl, combine all ingredients and mix with gloved hands until combined very well. To test the seasoning, make a very small and thin patty and fry until done and taste.
Form into your favorite loaf pan, or freeform into a rectangular shape on a cookie sheet. Bake for about 45 minutes (depending on shape) until the center reads 155 degrees. Let stand for 5 minutes before slicing. Serve with your favorite vegetables of the season and enjoy!
Serves four.