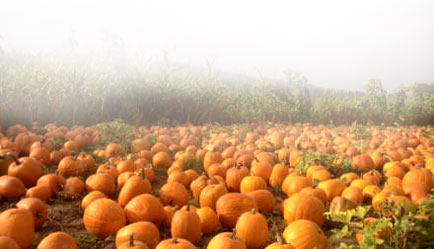 2 qt. water-salted
½ lb. Penné Pasta
4 tbsp. Extra-Virgin Olive Oil
4 Ea. Sweet Sausage Links-removed from casing, broken into 1" chunks
1 cup Onion-sliced thinly
4 Garlic Cloves-sliced
2 cups Fresh Pumpkin-peeled, seeded, ½" diced
¼ cup Italian Parsley Leaves-torn into rustic pieces
2 tbsp. Butter
Black Pepper To Taste, Fresh Grated Parmesan to Garnish
Bring the water to a boil in large pasta pot.
Add the pasta stirring to prevent from sticking.
Boil for about 12 minutes or until just tender.
While pasta is boiling, heat a large sauté pan on medium high heat.
Add olive oil, then the sausage.
Cook stirring for about 3 minutes until sausage is cooked through.
Add onions, cook for about 1 minute, then add the garlic, cook for 30 seconds.
Add the pumpkin and about 1 cup of the boiling pasta water, cover and simmer for about 5 minutes just to tenderize the pumpkin.
Drain the pasta when cooked and add to the sauté pan with the sausage mixture.
Finish the dish by stirring in the parsley and butter.
Season to taste with black pepper and freshly grated parmesan cheese.
Garnish if desired with toasted pumpkin seeds.

Lincoln Culinary Institute's Website: www.lincolnculinary.com