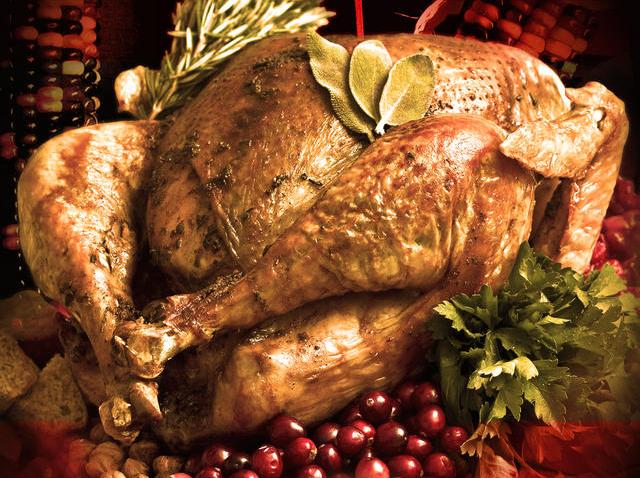 To create the conditions to prepare a good homemade turkey gravy, a heavy bottom roasting pan with a rack is necessary. Preheat your oven to 425°f. Have your turkey entirely thawed. I start by removing the neck and giblet bag from the turkey. Pat the turkey dry all over and rub down the outside with vegetable oil. Cover the roasting rack with foil, grease it with vegetable spray and poke lots of holes in it with a skewer to allow grease and juices to get through. Place the turkey breast side down into the rack and roast at the 425°f for one hour. This allows the bottom to brown and eventually creates a better gravy. Turn the oven down to 325°f. Turn the turkey over right side up and roast for another 2 hours or until 165°f is reached measured at the thickest point of the breast and thigh. Carefully remove the turkey and rack, and now you are ready to make the perfect gravy.
Place the roasting pan on an angle (place a few balled up kitchen towels under one side of the pan to allow all of the grease to pool up in one corner of the pan. Then pour off this grease into a bowl. Place the pan on top of your stovetop burner (s) on medium high heat. Add 5 cups water and allow to simmer or boil. While cooking, use a wooden scraper to clean the bottom and sides of the pan. When the pan is totally clean, strain the juices into separate bowl. Measure 1 quart of the turkey broth, reserve hot and cool the remainder for other uses.
Measure ¼ Cup of the reserved turkey fat and place in a heavy bottomed 2 quart saucepan. Heat over medium heat and add just under ½ Cup of all purpose flour. Stir until smooth and cook for about 1 minute to cook away the flour taste/aroma. Add about 1 cup of the hot turkey broth to the fat and flour mixture, whisking very smooth and bringing to a boil. Continue adding 1 cup of the broth at a time, whisking and bring to a boil in between additions. When all is added, simmer down to get a thicker consistency. If too thick, add some of your extra broth. When the gravy is of your desired thickness (keep in mind that the gravy will get thicker as it cools), season to taste with salt and black pepper. If a darker gravy is desired, try adding a few drops of gravy master darkening sauce or low sodium soy sauce. Reserve hot until use. The gravy may need thinning out as the longer it sits, it may get thicker. Makes 1 quart.