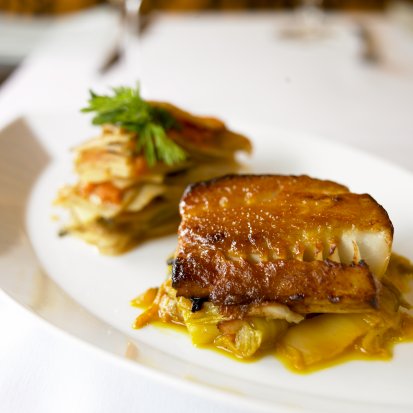 1 cup Jicama-peeled, cut into thin strips
Beets-medium size, roasted in the oven until tender,peeled, diced
Oranges-segmented
¼ cup Cilantro Leaves
2 tsp. Jalapeno Pepper-minced
2 tbsp. Raspberry Vinegar
2 tsp. Lime Juice
3 tbsp. Canola Oil
¼ cup Corn Flour or Masa Harina (not cornmeal)
3 tbsp. Pastry or Cake Flour
1 tsp. Turmeric (or use a packet of Sazon with Saffron )
Cod Fillets-boneless, skinless, 6 oz. Each or Sub any white fish
2 tbsp. Canola Oil
Salt and Black Pepper to Taste
To prepare the salad, combine the jicama, roasted beets, oranges, cilantro, jalapeno pepper, raspberry vinegar, lime juice, and canola oil in a bowl, tossing and seasoning to taste with salt and black pepper.
Preheat oven to 400º f. Mix together the flours, turmeric and salt and pepper to taste. Heat a sauté pan on medium high heat. Lightly coat both sides of each fish fillet with the flour, shaking off the excess. Add the second measure of canola oil to the pan and add fish fillets. Cook for about 2 minutes on each side or until a light golden. Remove fish to a sheet pan.
To finish, place the fish in the oven for about 5-8 minutes depending on the thickness of the fish until the fish flakes and is 145ºf measured at the thickest point with a thermometer. Serve fish fillets on a bed of the jicama salad and drizzle any juice at the bottom of the salad bowl around the fish as a simple sauce.