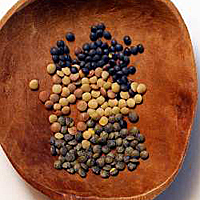 2 Tbsp. Extra Virgin Olive Oil
1/2 Cup Onions-diced
1/4 Cup Celery-diced
1/4 Cup Carrots-peeled and diced
1 Tbsp. Garlic-peeled and rough chopped
2 Tbsp. Tomato Paste
1 tsp. Chipotle Pepper in Adobo –minced finely
1 tsp. Ground Cumin
1 tsp. Ground Coriander
1 ½ Cups Lentils-brown or red-sorted of any stones, etc. rinsed
4 Cups Chicken or Vegetable Broth-or substitute water
¼ Cup Plain Yogurt
2 Tbsp. Fresh Mint-cut into fine strips
Salt and Black Pepper To Taste
Heat saucepan on medium heat. Add olive oil, onions, celery, and carrots. Cook stirring occasionally for about 3 minutes or until onions are very softened and sweet smelling. Add the garlic, tomato paste, chipotle, cumin, and coriander, cook for another 2-3 minutes but do not brown garlic. Add the lentils and the broth to cover all the ingredients. Place lid on pot and simmer for about 20 minutes or until everything is very tender.

Soup can be served brothy style or if desired puree soup by using a hand mixer or blender to your desired consistency. Or just whisk the soup to break up some of the lentils and thicken. Return soup to pot and season to taste with salt and pepper. Serve each bowl garnished with 1 Tbsp of yogurt and 1 ½ tsp of the mint. Serves 4.