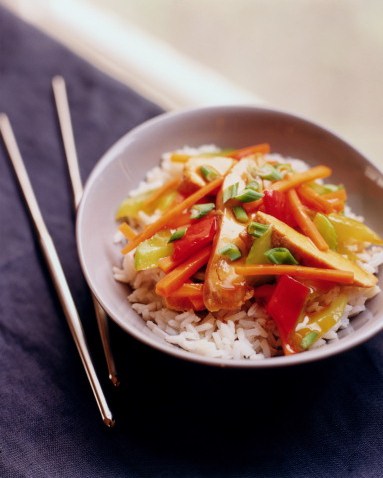 Marinate meat at least 1 hour or overnight: whisk eggs, oil, and cornstarch in bowl, toss with pork, cover tightly and refrigerate until cooking time.
½ Lb. Pork Tenderloin or Loin- defatted, cut into thin strips
1 Egg
¼ Cup Cornstarch
¼ Cup Vegetable Oil
For Stir Fry:
3 Tbsp. Vegetable Oil
¼ Cup Scallions-sliced
2 tsp. Ginger- minced
2 tsp. Garlic-minced
½ Cup Broccoli-cut into small florets
½ Cup Carrots-sliced thinly
½ Cup Red Peppers-large diced
½ Cup Mushrooms-any variety, quartered of left whole if small
¼ Cup Waterchestnuts-drained of canning juices
½ Cup Hoisin Sauce
¼ Cup Chicken Broth or Water
¼ Cup Roasted Cashews-or substitute peanuts
· Heat pan or wok on high, add oil, and cook pork until lightly colored, stirring to separate and cook evenly. Remove from pan reserving the cooking oil.
· Sweat the scallions, ginger, and garlic, until very aromatic. Add more oil as needed since ginger absorbs oil. Add the carrots and broccoli and stir fry until until bright in color, add all other vegetables, cook for 30 seconds. Return the pork back to pan, add the hoisin sauce and chicken broth, and mix to coat all ingredients until a light glaze consistency. If sauce is too thick, thin with a touch of water. Serve over Chinese Sticky Rice (recipe below) Enjoy!
For Chinese Jasmine Rice: 1 Part Rice to 1½ Parts Water Ratio
Rinse 1 1/2 cups of Jasmine rice three times in large bowl of water, draining each time until clear, drain very well. Place in heavy, wide, and shallow pan and combine with 2 ¼ tightly, and very gently simmer for 20 minutes. Turn off heat and let sit covered 10 minutes. Serve with the stir fry.
CT Culinary Institute's Website: www.ctculinary.edu