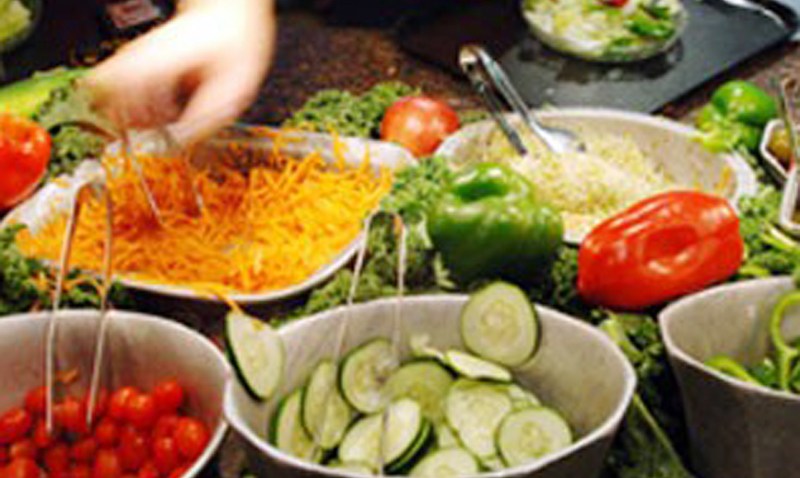 We are all trying to save a buck or two, so what if you could stretch your meals a little longer?
Two-for-one veggies:
3 medium zucchini
3 medium yellow squash
6 plum tomatoes, cut in half
1 tbsp. olive oil
1 tbsp. kosher salt
1 tsp. dried basil or 2 tsp. fresh chopped basil
Cut off ends of the zucchini and squash. Cut each squash lengthwise into three-inch thick slices. Combine zucchini, squash and tomatoes in a mixing bowl. Add olive oil, salt and basil and toss to coat.

Grill vegetables on a medium-hot grill until slightly charred and tender-crisp. Remove from grill, cool and chop coarsely. Makes about six cups.
Two-for-one salad:

3 cups Two-for-One Veggies (recipe above)
12 basil leaves, chopped
1/4 cup sliced red onion
3 cups mixed greens
4 ounces goat cheese

Dressing
1 tbsp. olive oil
2 tsp. red wine vinegar
1 tsp. maple syrup
1/2 tsp. kosher salt
In a large salad bowl or platter, combine "utility sauce" vegetables, greens, basil and red onion. In a small bowl, whisk together the dressing ingredients. Pour dressing over vegetables and toss gently to mix. Sprinkle crumbled goat cheese over the top of the salad. Serves four to six.