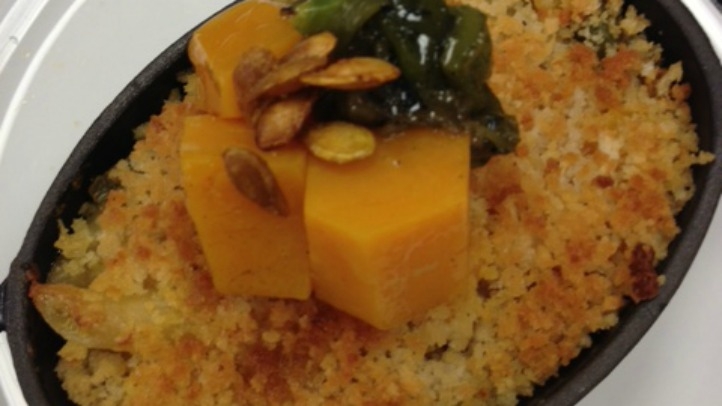 ½ Lb. Elbow Macaroni-or any favorite pasta
1 ½ Cups Heavy Cream
1 ¼ Cups Shredded White Cheddar Cheese
1 ½ Cups Butternut Squash-diced and steamed until tender
1 Poblano Pepper-roasted, peeled, seeded, chopped
1 ½ Cups Panko Bread Crumbs
½ Stick Butter-melted
To Taste Salt and Black Pepper
Cook the macaroni according to in 2 quarts of boiling salted water. Drain, but do not rinse.
In the same pan the macaroni was cooked in, bring the heavy cream to a full boil.
Taste Of Today
Add the cooked macaroni and continue to boil the cream. As the mixture starts to lightly thicken, start gradually adding the cheese, stirring. Continue until all the cheese has been added. Finish by adding the butternut squash and poblano peppers, seasoning to taste with salt and pepper.
Prepare the bread crumb topping by combining the bread crumbs with melted butter, seasoning to taste with salt and pepper. Place the macaroni in a shallow baking dish, top with the bread crumbs and bake in a 400°f until the topping is golden brown and pasta is hot. Enjoy!
Lincoln Culinary Institute's Website: www.lincolnculinary.com