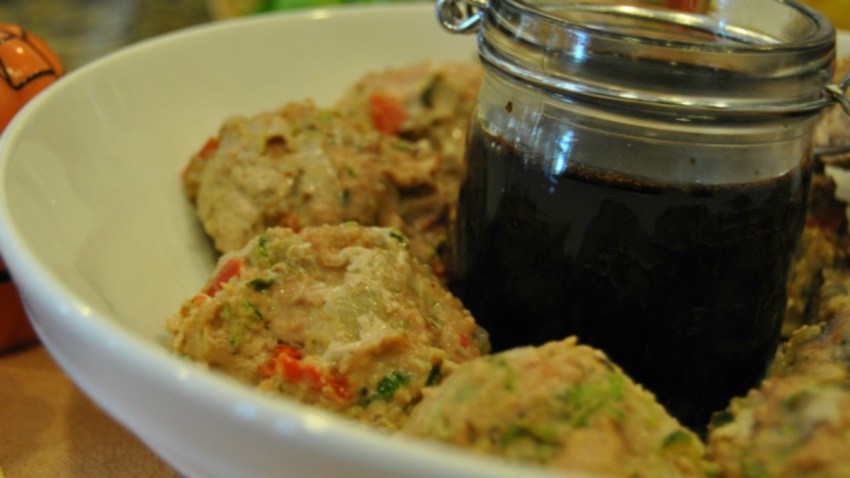 Ingredients

2 tablespoons extra-virgin olive oil
1 small zucchini, finely diced
1/2 cup red bell pepper, finely diced
1/3 cup small yellow bell pepper, finely diced
4 cloves garlic minced
1/4 teaspoon red pepper flakes
1 teaspoon sea salt
1/2 teaspoon freshly ground pepper
1 large egg
1 tablespoon finely chopped fresh thyme
1/4 cup chopped fresh parsley
1 pound ground turkey
3/4 cup almond or tapioca flour
1 cup balsamic vinegar
2 tablespoons honey
3/4 teaspoon salt
1/4 teaspoon freshly ground pepper

Directions

Preheat the oven to 350 degrees.

Heat the oil in a large Le Creuset Saute Pan pan over high heat.
Add the zucchini, bell peppers, garlic and red pepper flakes. Season with salt and pepper and cook until the vegetables are almost soft, about 5 minutes. Set aside to cool.
In a large OXO mixing bowl, whisk the egg and fresh herbs. Add in the ground turkey, flour and the cooled vegetables; mix until just combined (go ahead just use your hands).
Prepare a large baking sheet by lining with parchment paper (easy clean up). Roll meatballs by using an ice cream scoop (to keep the meatballs the same size) and roll then place on baking sheet.
Bake for 25 minutes if large or 20 minutes if smaller. Just taste one now!
To prepare the balsamic glaze. Take a small sauce pan over high heat and add balsamic vinegar and bring to a boil. Reduce to low and let reduce for about 10 minutes. Remove from heat and whisk in honey, salt and pepper. Drizzle over meatballs or let your guest do the honors! Enjoy!