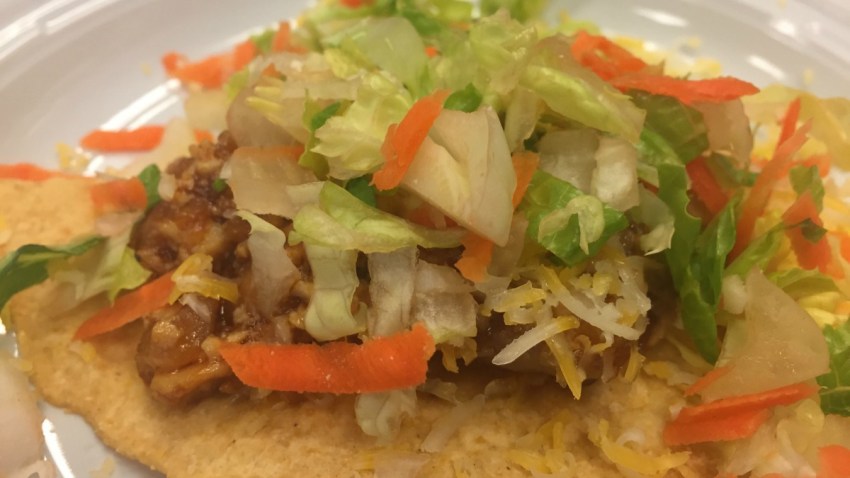 This recipe serves four.
Ingredients:
1 Tbsp. Vegetable Oil
½ Cup Onions-finely chopped
2 tsp. Garlic-minced
½ tsp. Cumin
¼ tsp. Ground Coriander
¼ Cup Cider Vinegar
¾ Cup Ketchup
2 Tbsp. Molasses
1 Tbsp. Honey
1 Cup Extra Firm Tofu-broken up and mashed with a potato masher until meat like consistency
4 Corn Tortillas
As Needed Vegetable Oil as Needed for Frying
As Needed Shredded Jack Cheese, Diced Tomatoes, Shredded Lettuce, Cilantro Sprigs, Sour Cream, Lime Wedges
Instructions:
Prepare BBQ sauce by heating a saute pan on medium heat. Add the vegetable oil and onions. Cook for about 2 minutes or until softened. Add the garlic, cumin, coriander, cook 30 seconds. Add vinegar, ketchup, molasses and honey, whisk until smooth. Stir in the tofu. Reserve warm to serve with tostadas.
To fry tostadas, heat ½" of vegetable oil in a saute pan wide enough to fit your corn tortillas to 350°f. Fry one tortilla at a time flipping after the first side gets light golden. Remove to drain. Season once out of the oil. Repeat with other tortillas.
Top each fried tortilla with the shredded bbq tofu, jack cheese, and sprinkle any of the suggested garnishes above. Enjoy!
Please Visit Chef Jamie's Facebook page.