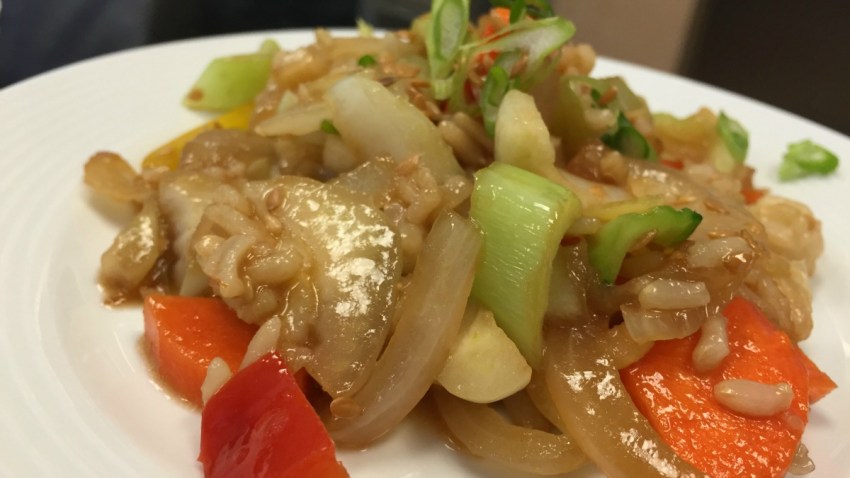 This recipe serves four.
Ingredients:
4 Tbsp. Vegetable Oil
1 Cup Onions, sliced
2 Tbsp. Scallions, chopped
1 Tsp. Fresh ginger, grated or chopped finely
1 Tsp. Fresh garlic, chopped finely
2 cups Chinese cabbage -- Napa or Bok Choy --shredded
½ Cup carrots, shredded
¼ Cup bell peppers, sliced
1 ½ cups cooked, cooled brown Basmati rice
½ Cup hoisin sauce
As needed, garnish with roasted peanuts, toasted sesame seeds, fried Chow Mein noodles
Instructions:
Heat a sauté pan on high heat.
Add vegetable oil and onions to the pan. Cook for about 1 minute.
Add the scallions, ginger and garlic. Cook, stirring for about 30 seconds, or until aromatic.
Add the cabbage, carrots and bell peppers, tossing to evenly wilt. Cook for about 2 minutes, leaving the cabbage still crunchy if desired.
Add the rice and cook until hot.
Finish by adding the hoisin sauce, tossing to evenly coat. Adjust consistency of sauce with a little water if needed.
Garnish with roasted peanuts, toasted sesame seeds or fried chow mein noodles if desired and serve.
Enjoy!