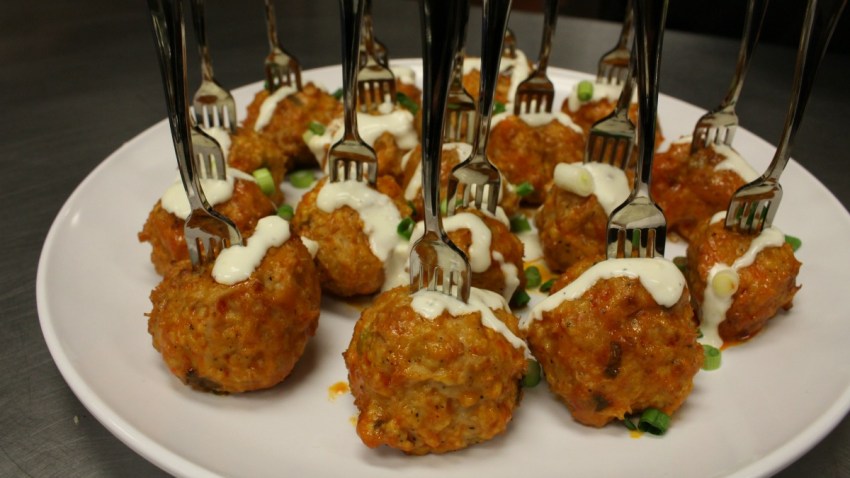 J. Timothy's Taverne's award-winning signature buffalo sauce was recently recognized by the Food Network. Here's one recipe you can make with it.

Ingredients:
2 pounds ground chicken
1 1/2 cups Panko bread crumbs
2 large egss
1 teaspoon garlic powder
1 teaspoon onion powder
2 green onions, thinly sliced
Kosher salt and freshly ground black pepper, to taste
1 cup J. Timothy's Buffalo Sauce
1/4 cup blue cheese dressing
Instructions:
Preheat oven to 400 degrees Fahrenheit. Line a baking sheet with parchment paper or a light coating of non-stick spray.

In a large bowl, combine ground chicken, Panko, egg, garlic and onion powder and green onions; season with salt and pepper, to taste. Stir until well combined. Roll the mixture into small meatballs, forming about 24- 36 meatballs.
Place meatballs onto prepared baking sheet and bake for 4 to 5 minutes, or until all sides are browned.
Place meatballs into a large pot. Add buffalo sauce and gently toss to combine. Cover and cook on low heat for 1 hour.
Serve immediately, drizzled with blue cheese dressing.
You can find other recipes with J. Timothy's buffalo sauce on their website at jtimothys.com/buffalo-sauce-recipes.