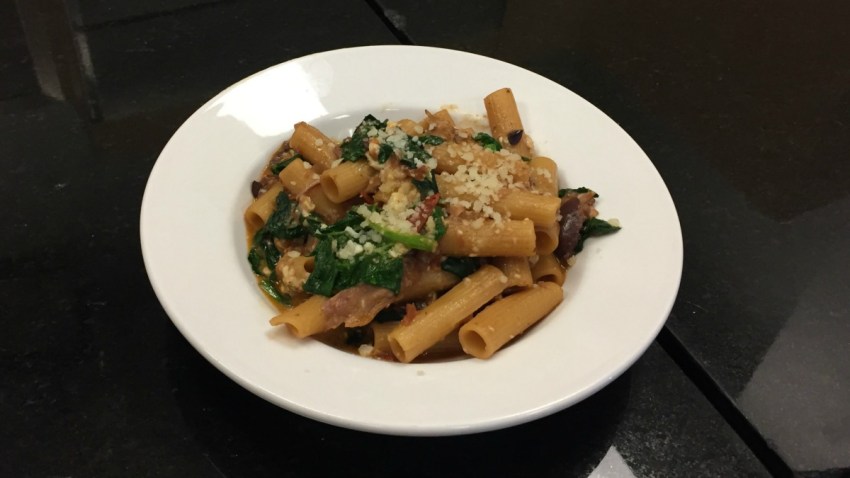 This recipe makes six to eight entrees.
Ingredients:
1 pound penne pasta, cooked until al dente in boiling, salted water
1 tablespoon vegetable oil
1 cup small diced onion
½ teaspoon kosher salt
1 tablespoon minced garlic
2 cups chopped fresh plum tomato
1 cup red wine
2 tablespoons chopped kalamata olives
1 cup chicken stock
4 cups lightly packed spinach
1 ½ cup chopped cooked chicken
¼ cup grated parmesan cheese
¼ cup crumbled gorgonzola cheese
Instructions:
Taste Of Today
Cook the pasta in a gallon of well-salted water until al dente. Then strain the pasta into a large colander and set aside.
While the pasta is cooking, heat a large pot over medium heat, then pour in the oil. Add the onions then mix in the salt. Cook until the onions are lightly caramelized.
Add the garlic and tomato, then continue cooking for two to three minutes. Pour in the red wine and toss in the olives. Allow the liquid to reduce by half.
Add the chicken stock and spinach, then cook until the spinach is wilted.
Toss the cooked chicken and pasta with the sauce, heating through.
Finish with the parmesan and gorgonzola. Taste and adjust with salt if necessary.