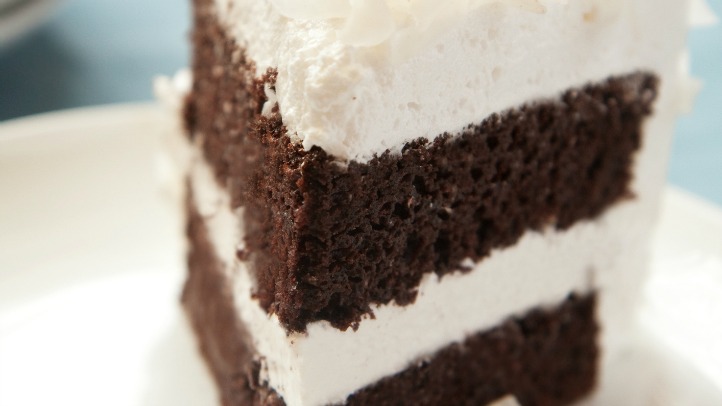 Ingredients
2 cups flour
3/4 cup unsweetened cocoa powder
1/2 teaspoon sea salt
1 teaspoon baking soda
3/4 teaspoon baking powder
3/4 cups unsalted butter, soften
3 large eggs, room temperature
2 cups sugar
2 teaspoon vanilla
1 1/2 cup buttermilk
Cooking spray or butter for coating baking pans

Directions

1. Pre-heat oven to 350 degrees.
2. Coat 2 9 inch round baking pans
3. In a large bowl combine flour, cocoa powder, salt, baking powder and baking soda and mix together.
4. In a large bowl, beat butter, eggs and vanilla. Continue beating and slowly add sugar on a medium speed for 2-3 minutes.
5. Combine in flour mixture and buttermilk to batter while mixing batter. Continue to beat until batter is smooth.
6. Divide batter into the two prepared pans
7. Bake 25-30 minutes. Toothpick should come out clean.
8. Remove from oven and allow cakes to cool in pans for a few minutes before removing from pan. Place on a wire rack to cool completely.
9. Prepare frosting. When frosting add some of the coconut to the middle layer then the remaining to the top of the cake after frosting!

Coconut Cream Frosting
2 8 oz. packages of cream cheese
1 cup (two sticks) unsalted butter, softened
1 1/2 cups confectioner's sugar
1 1/2 teaspoons vanilla
1/2 cup honey
1 1/2 cup unsweetened shredded coconut, divided

Directions
Using your stand mixer or hand mixer blend the cream cheese and butter together until smooth. Add the confectioner's sugar, honey and vanilla and continue to mix until the icing is very smooth, about 2 minutes. Add in ¾ cup coconut and combine well into mixture.
Refrigerate for 30 minutes to 1 hour before icing your cake.