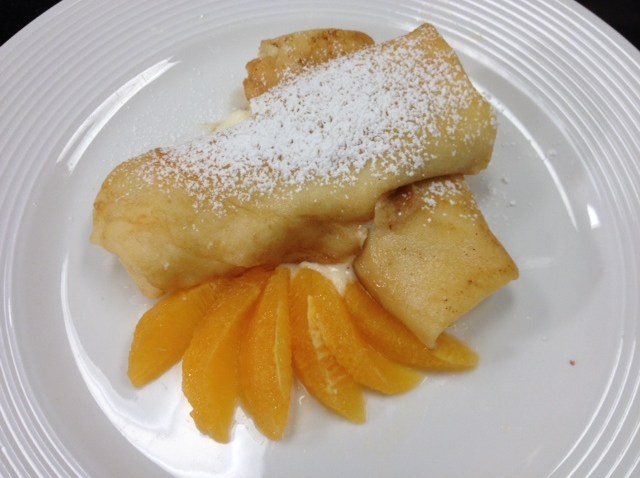 Citrus Bruch Blintzes
Makes 4 Servings, 8 Blintzes
Taste Of Today
·
Place the flour and salt in a bowl. In a separate bowl whisk together the eggs, milk and oil. Add the liquid to the dry ingredients and whisk until smooth. Let batter rest 30 minutes before making crèpes.
·
To make crèpes, heat an 8" non-stick pan over medium heat, spray with vegetable spray to lightly coat pan. Add about 2 Tbsp. of batter and immediately rotate pan rolling so the batter covers the entire bottom surface of the pan with a thin film. (This may take a few times of practice, but there will be extra batter) When lightly browned, gently flip over and cook for another 10 seconds. Remove from pan, repeat with other crèpes to have a total of 8 or more crèpes.
Cream Cheese-softened 8 Oz.
Orange Zest From 2 Oranges
Powdered Sugar-sifted ½ Cup
·
Combine all ingredients in a bowl, mixing until incorporated. Lay out all the crèpes and place an equal amount of the filling at the center of each. Roll one end of the crepe up and over the filling, fold in sides and finish rolling. Place seam side down on cookie sheet before cooking.
·
To cook, heat a sauté pan with a few tablespoons of butter on medium heat. Add the filled blintzes to the pan, seam side up. Cook gently until light golden. Gently flip over and lightly brown the seam side. Serve garnished with orange segments and enjoy!