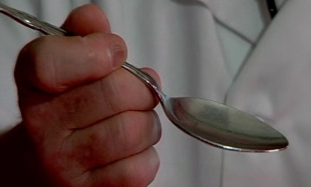 This recipe makes 1 quart or more.
Ingredients:
1 Lb. Bone-in chicken, chicken legs or thighs, remove skin
2 quart cold water
1 onion, peeled and diced
2 carrots, peeled and diced
8 sprigs of thyme or marjoram
6 black peppercorns
4 beets, washed well and quartered
¼ Lb. orzo pasta, cooked and cooled
To taste, salt and sugar
Instructions:
Place the chicken in a pot and rinse very well with cold water to remove any chicken blood.
Drain well and add the cold water, onions, carrots, thyme, peppercorns and beets. Bring up to a gentle boil and reduce to a simmer. After cooking for about 20 minutes, carefully remove the chicken.
Let cool and remove the meat from the bones and reserve. Place the bones back into the pot and simmer for another hour. Skim the surface occasionally to remove any fat, or impurities from the top.
Strain the soup through a fine strainer. Peel some of the beet quarters and dice up to use in the soup as a garnish if desired.
Place the soup back in the pot to reheat and season to taste with salt and sugar. Serve in bowls garnished with the reserved chicken meat, orzo pasta, and diced beets. Enjoy!