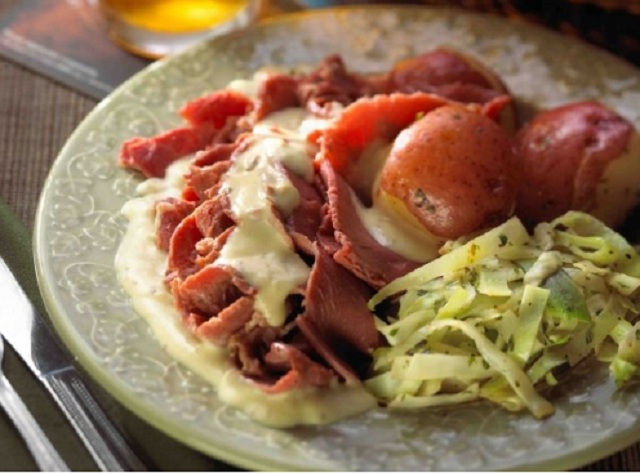 12 Oz. Corned Beef-sliced thinly, warmed
½ Cup Sour Cream
1 Tbsp. Prepared Horseradish
1 tsp.Dijon Mustard
1 ½ Cups Finely Shredded Cabbage
½ Cup Finely Shredded Carrot
¼ Cup Flat Leaf Parsley Leaves
2 Tbsp. Sugar
2 tsp. Salt
3 Tbsp. Cider Vinegar or any favorite vinegar
12 Small Dinner Rolls-sliced in half, warmed
To Taste Salt and Black Pepper
Prepare the sauce by whisking together the sour cream and mustard, seasoning to taste with salt and black pepper.
Reserve.
Prepare the cabbage slaw by combining the cabbage, sugar, and salt.
Let marinate for 20 minutes and squeeze out excess water.
Add the carrot, parsley leaves and dress the cabbage with the vinegar.
To assemble, dress the warmed rolls with the sauce.
Divide the cabbage slaw among the bottom rolls.
Divide the corned beef among the 12 sandwiches and finish with the roll tops. Enjoy!
Lincoln Culinary Institute's Website: www.lincolnculinary.com