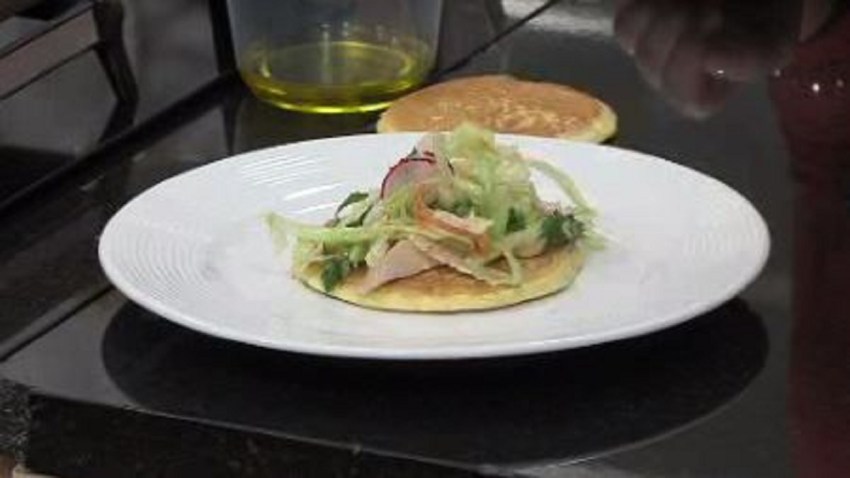 This recipe makes four servings.
Ingredients:
½ Cup Cornmeal
½ Cup All Purpose Flour
½ tsp. Baking Powder
½ tsp. Baking Soda
½ tsp. Salt
1 Cup Milk
1 Egg
1 Tbsp. White Vinegar
1 Tbsp. Canola Oil
½ Cup Thinly Sliced Cooked Pork Loin
1 Cup Finely Shredded Lettuce
¼ Cup Finely Sliced Sweet Onions
¼ Cup Finely Shredded Carrots
2 Tbsp. Finely Sliced Radish
2 Tbsp. Fresh Cilantro Leaves
3 Tbsp. Sweet Chile Sauce
2 tsp. Rice Vinegar
To Taste Salt and Pepper
Instructions:
Sift the first four dry ingredients into a bowl. In a separate bowl, whisk together the milk, egg, vinegar and oil. Add the liquid ingredients into the dry ingredients and stir until barely smooth. Let batter sit for 10 minutes, meanwhile preheat griddle to 350°f and prepare slaw.
Prepare the slaw mixture by combining the remaining ingredients, seasoning to taste with salt and pepper. Reserve.
Cook the pancakes on a greased griddle, using about ¼ cup of batter for each. Allow the edges to set and the top become slightly dry before flipping. Cook the other side.
While still hot, enjoy as an open faced "taco" style sandwich topping with the slaw mixture.