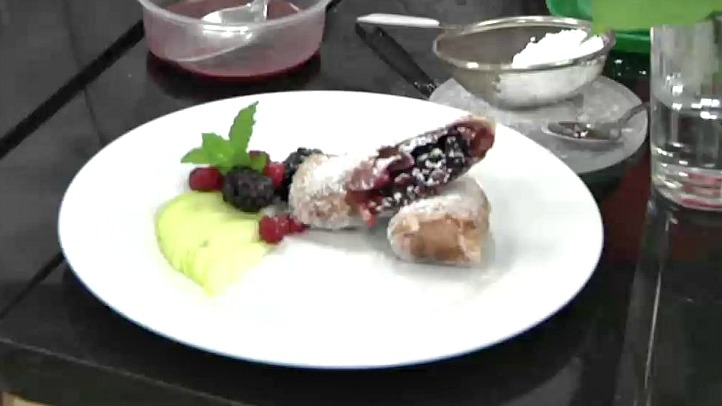 Serves four.
2 apples - Cortland, Granny Smith, Golden Delicious: peeled, cored ½"
1 Tbsp. butter
¼ cup sugar
2 tsp. pure vanilla extract or substitute almond extract
½ pint fresh summer berries (washed, patted dry)
8 Ea. spring roll wrappers, 5" square size (available in Asian section of market)
1 egg, beaten with 2 Tbsp. water for an egg wash
Vegetable oil for deep frying as needed
½ cup sugar mixed with 2 tsp. ground ginger to dredge spring rolls
Heat sauté pan over high heat. Add apple dices to pan and cook for 20 seconds to lightly caramelize. Add butter and sugar, tossing to coat. Let sugar turn a light brown, add the vanilla extract. Gently stir in the berries. Spread this filling out onto a cookie sheet to cool before filling spring rolls.
Lay 8 spring roll wrappers out. Divide the cooled filling among the wrappers in a cylinder shape leaving ¾" of wrapper on each edge with no filling to tuck edges in. Lightly brush the egg wash on the latter ¼ of the spring roll wrapper. Roll wrappers around filling, tucking in sides, sealing the final edge.
Heat tall, narrow deep fry pot half filled with vegetable oil to 375°F. Place ginger sugar mixture in a shallow dish. Place 4 spring rolls at a time in a deep fry basket and submerge in oil, frying about 2 minutes or until golden brown and crisp. Lift basket out and turn spring rolls out into the ginger sugar mixture, tossing gently to coat all over evenly. Divide among four serving plates, and garnish with shredded or sliced apple, whipped cream or ice cream and powdered sugar. Enjoy!
Lincoln Culinary Institute's Website: www.lincolnculinary.com