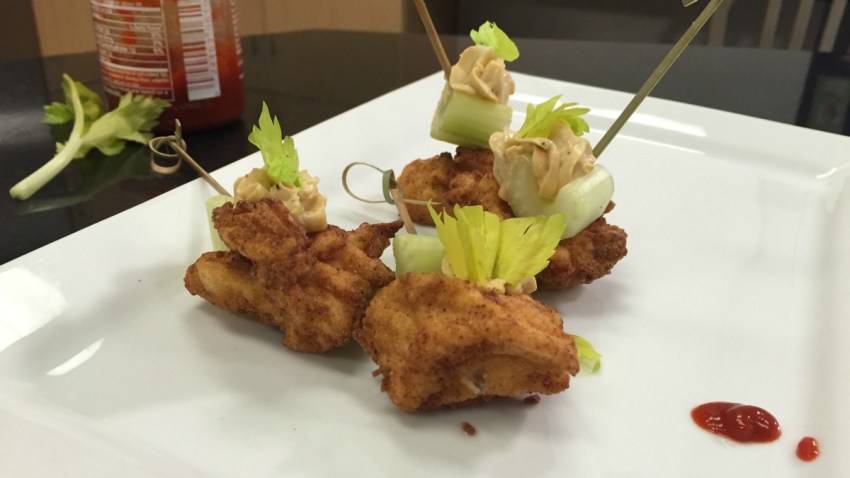 Ingredients:
4 chicken breasts, cut into thin pieces, about 1/3-inch thick
2 cups water
1 Tbsp. kosher salt
1 cup Panko bread crumbs
1 cup all-purpose flour
1 Tsp. kosher salt
1 Tsp. cayenne pepper
½ Tsp. black pepper
1 Tsp. garlic powder
2 eggs-beaten with 2 Tbsp. water
As needed vegetable oil for deep frying
½ Lb. cream cheese, softened
¼ Lb. blue cheese, finely crumbled
To taste hot sauce
4 celery stalks, about 6-inch length, peeled
Instructions:
Whisk together the water and salt in a bowl. Add the chicken pieces and brine under refrigeration for 30 minutes or up to two hours. Drain very well and pat dry the chicken with paper towels.
Combine the bread crumbs, flour and seasonings and place in a shallow pan for coating the chicken.
Place the chicken in the beaten egg and coat thoroughly. Dredge the chicken in the bread crumb mixture, coating each piece evenly. Press gently so the crumbs adhere to the chicken.
Whip the cream cheese until fluffy. Add the blue cheese and hot sauce and whisk in. Spread the mixture into the hollow cavity of the celery stalks. Cut each into about six pieces, about 1-inch in size. Reserve.
Fry the chicken in 350 degree Fahrenheit oil in small batches for about two minutes or until golden and cooked through. Drain. Place a celery piece on top of each chicken nugget and secure with a toothpick. Arrange on a serving platter and enjoy!