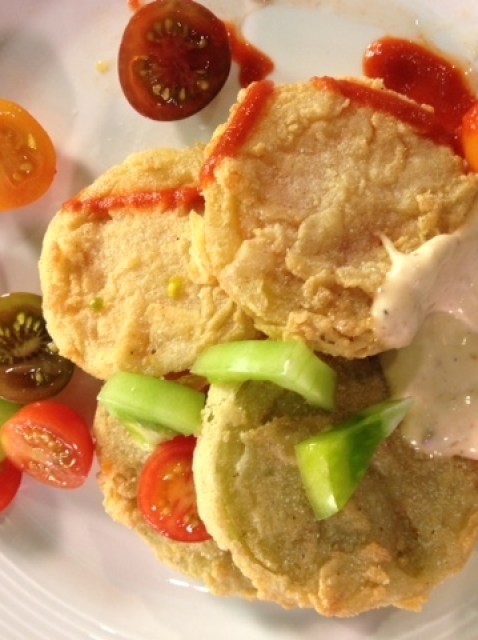 12 Green Tomato Slices-sliced about ½" thick
1 ½ Cups Buttermilk
1 ½ Cups Masa Marina-or substitute corn flour, not cornmeal
1 Cup Mayonnaise
1 Tbsp. Chipotle Pepper Puree
2 tsp. Honey
2 tsp. Lime Juice
As Needed Vegetable Oil for frying
Salt , Sugar, and Black Pepper to Taste
Dredge each tomato slice in the flour, shake off excess, dip each into the buttermilk, and then dredge each slice back into the corn flour, pressing to adhere well.
Taste Of Today
Heat a wide frypan with about ¼" of vegetable oil on medium-high heat. Check to see oil is hot enough by dropping a pinch of the flour in the hot oil and look for a moderate sizzle.
Alternatively, tomato slices can be deep fried in 350°f oil. Place tomato slices in oil in small batches and fry until deep golden, flip over, repeat. Drain on paper towels.
To make sauce, whisk together the mayonnaise, chipotle pepper puree, honey, and lime juice.Season to taste with salt and pepper. Serve with green tomatoes. Enjoy!
Lincoln Culinary Institute's Website: www.lincolnculinary.com