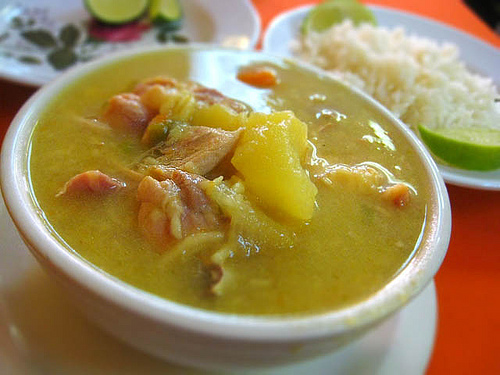 3 boneless, skinless chicken thighs, cut into 1-inch pieces
2 cups large diced onion
1 cup large-diced celery
2 cups large-diced carrots
4 cups large-diced potatoes
2 cups large-diced turnips
1 quart chicken broth
2 quarts cold water
1 tablespoon dried thyme
5 tablespoons cold water mixed with 5 tablespoons cornstarch
4 tablespoons brown sugar
6 tablespoons balsamic vinegar
1 to 2 tablespoons kosher salt
1/2 teaspoon black pepper
In a large soup pot, mix together the chicken, onion, celery, carrots, potatoes, turnips, chicken broth, water, and thyme and bring to a simmer over medium-low heat. Reduce heat to low and simmer – the soup will barely be bubbling – for 1 to 1-1/2 hours.
Before serving, add the cornstarch mixture, while stirring the soup, until the soup thickens. Season with brown sugar, balsamic vinegar, salt and pepper and pour over large toasted croutons. Serves 6 to 8.