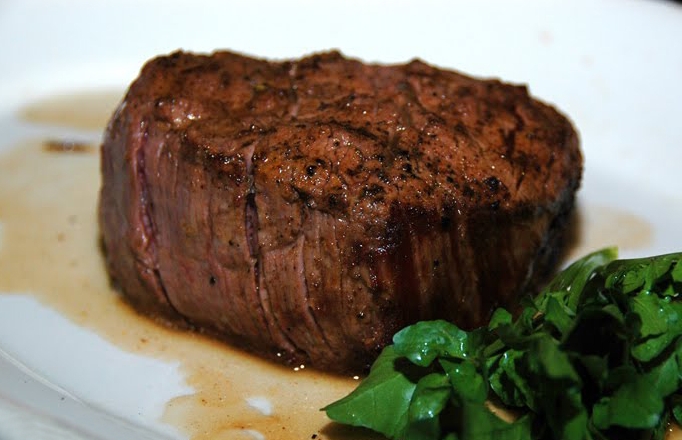 INGREDIENTS:
6 ounces filet medallions
2 ounces crab meat (super lump)
1 ounce heirloom spinach (de-stemed)
2 ounces hollandaise sauce
1 ounce demi glace (separate recipe)
2 ounces blended oil
1 ounce butter
salt & pepper to taste

Hollandaise Sauce
Ingredients
4 egg yolks
1 tablespoon freshly squeezed lemon juice
1/2 cup unsalted butter, melted (1 stick)
Pinch cayenne
Pinch salt
Directions
Vigorously whisk the egg yolks and lemon juice together in a stainless steel bowl and until the mixture is thickened and doubled in volume. Place the bowl over a saucepan containing barely simmering water (or use a double boiler,) the water should not touch the bottom of the bowl. Continue to whisk rapidly. Be careful not to let the eggs get too hot or they will scramble. Slowly drizzle in the melted butter and continue to whisk until the sauce is thickened and doubled in volume. Remove from heat, whisk in cayenne and salt. Cover and place in a warm spot until ready to use for the eggs benedict. If the sauce gets too thick, whisk in a few drops of warm water before serving.

Demi Glace
Ingredients
2 lbs. veal bones
1 each spanish (yellow) onion
1 each carrot
1 stalk celery
2 ounces tomato paste
16 ounces Sebago Bourbon aged lake trout stout
1 sprig rosemary

Directions
1) Place bones in to roasting pan, cook @ 350 for 2 hours (or until caramelized)
2) Once bones are caramelized, remove bones from pan, place into stock pot
3) Add vegetables to the used roasting pan, smear tomato paste over vegetables, then cook @ 350 for 45 minutes (or until caramelized)
4) Once vegetables are caramelized, add vegetables to bones in stock pot….reserve stove top (no heat)
5) Place roasting pan on high flame, deglaze with beer, scrape fond loose.
6) Once fond is loose, add to bone & vegetable mixture.
7) Fill stock top with water (leave 1-2" to avoid boiling over)
8) Once stock is reduced by ¾ (should coat back of spoon), strain liquid.
9) Allow stock to cool, should be completely geletanized once cool.

Directions:
1) pre heat a saute pan using the blended oil on high heat.
2) Once smoke point is achieved, place seasoned filet medallions in the oil.
3) Sear the medallions until once side is golden brown, flip meat over & continue to cook until desired tempurature is achieved.
4) On low flame, heat the crab meat & butter until the crab meat is warm (do not over cook)
5) When your medallions are ready, use another saute pan to heat 1 ounce of oil until smoke point, add spinach, toss the spinach (quickly) with salt & pepper unitl slightly wilted.
6) Place finsihed spinach on plate, place fillet medallions on top of spinach, then carefully place the crab on top of the medallions.
7) top of the crab with hollandaise (a little goes a long way!)
8) drizzle the demi glace around the plate.
9) ENJOY!