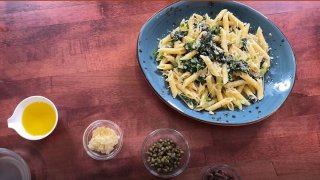 This recipe makes four servings.
INGREDIENTS:
¼ cup olive oil
3 cloves garlic minced
3-4 anchovy filet, chopped fine, with packing oil
2 tablespoons capers
½ cup cooked, chopped spinach
1 pound cooked pasta and 1 cup of reserved pasta cooking water
½ cup grated parmesan
INSTRUCTIONS:
Heat oil in a medium-sized pan over high heat.
Add the garlic, anchovies and capers, then cook for 45 seconds.
Once the garlic begins to soften, toss in the spinach. Stir well.
Add the reserved pasta cooking water followed by the cooked pasta.
Thoroughly mix until heated through.
Incorporate cheese and serve.
MORE RECIPES