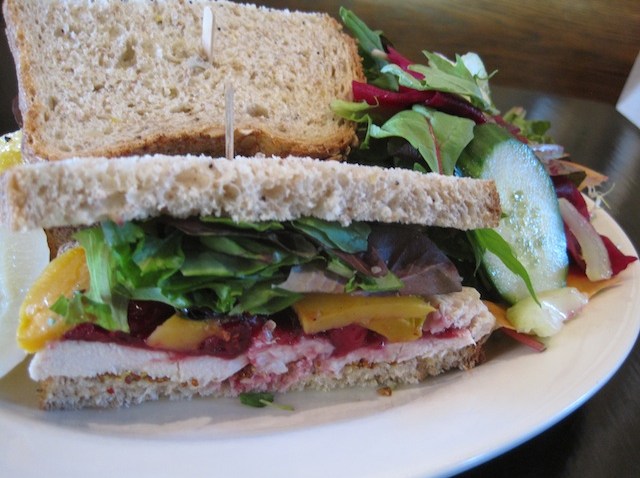 1/4lb. thick sliced roasted turkey breast
1/4 of whole sliced avocado
1/3c. warm caramelized Spanish onion
2oz. cranberry mayo (see recipe)
2 slices dutch fontina cheese
1 8in. wheat flatbread
1/2oz. melted butter or olive oil
Cranberry Mayo Recipe – (yields 4 servings)
1c. refrigerated mayonnaise
1/2c. sweetened dried cranberries
1/8tsp. table salt
1/8tsp. black pepper

Preheat panini press/sandwich grill to 425 degrees. Begin by preparing cranberry mayo.
In a food processor blend all of refrigerated mayo, ¼ cup of cranberries, salt and pepper together.
While blending, add remaining ¼ cup of cranberries until smoothly pureed.
Unused cranberry mayo may be stored in refrigerator for several weeks in sealed container.
Start assembly process by cutting wheat flatbread in half leaving two equal moon-shaped pieces.
On one half place sliced avocado. Next, layer the thickly sliced turkey breast on top of avocado.
Using a spoon spread 2 oz. of cranberry mayo centrally on turkey to avoid squirting out of sandwich during grilling.
Gently place the warmed caramelized onions directly on top of cranberry mayo.
Lastly, lay the slices of dutch fontina cheese on caramelized onions covering all of sandwich.
Top the cheese with other half of flatbread and brush bread with choice of melted butter or olive oil.
Using a spatula place flatbread sandwich buttered side up on Panini press.
Close door and grill for approximately 2 minutes.
Rotate sandwich a ¼ of a turn and continue grilling for another 2 minutes.
Remove flatbread using spatula and allow resting for 1 minute.
Sandwich should have distinctive diamond pattern and cheese melted within.
Cut moon shaped flatbread into three equal triangles for easy consumption.
Enjoy with housemade bagel chips and fresh chilled salad. Bon appetit!