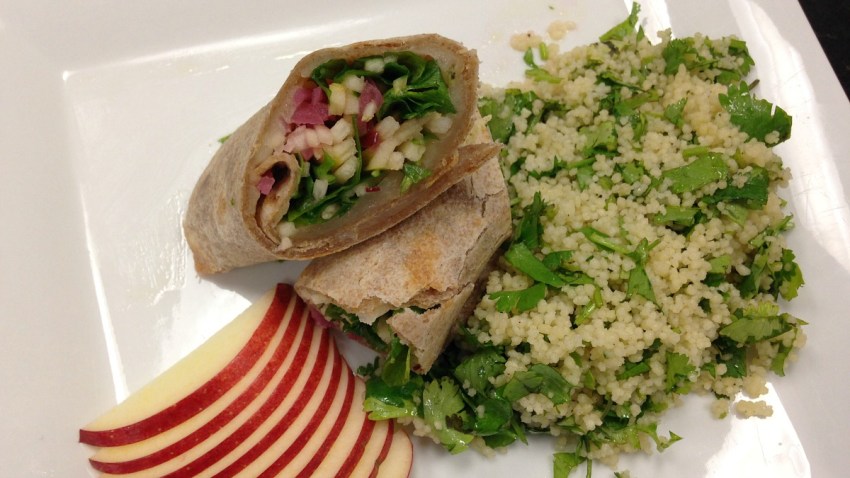 For the tortilla:
¾ cup whole wheat flour (100 Grams)
½ cup all-purpose flour (72 Grams)
1 tsp. Kosher salt (4 Grams)
3 Tbsp. canola oil (40 Grams)
7 Tbsp. hot water (88 Grams)
Garnish:
1 cup sharp white cheddar cheese - shredded
2 cups arugula or any favorite salad green
¾ cup shredded apple
1/3 cup red onions - finely sliced
2 tsp. red wine vinegar
1 Tbsp. extra virgin olive oil
To taste: Kosher salt and black pepper
Directions:
Preheat a griddle to 400°F. In a bowl, combine all the ingredients for the tortilla and mix with your fingertips and eventually gather into a ball and knead on the countertop for 2 minutes. Roll the dough into a rope about 6 inches long and cut four equal portions. Roll each into a ball, flatten into a 2 inch disc, coat each with a dusting of all purpose flour and let relax covered for 5 to 10 minutes. Roll each portion out into a thin 8-inch circle.
Place the tortillas two at a time on the griddle and cook for about 1 minute or until it lightly blisters and has a few golden spots on the griddle side. Quickly flip over and sprinkle ¼ cup of the cheese over the surface of the just flipped tortilla. Cook for another minute on the second side and remove to a cutting board, melted cheese side facing up. Repeat with the two remaining tortillas.
Place the arugula, apple and red onions in a bowl. Gently toss with the vinegar, olive oil, seasoning to taste with salt and black pepper. Top each tortilla with an equal mix of the salad mixture and roll each up. Slice on a bias and serve. Enjoy!
Lincoln Culinary Institute's Website: www.lincolnculinary.com.