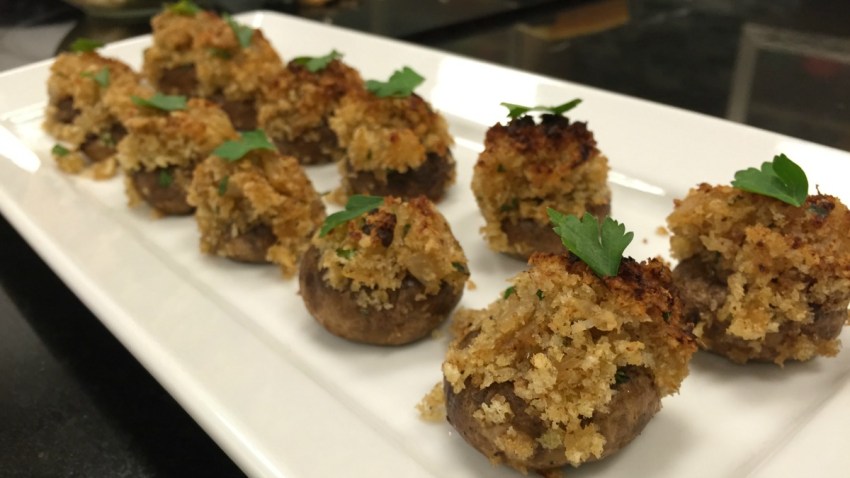 Ingredients
24 White mushrooms-stems removed, cleaned, patted dry
1/4 Cup extra virgin olive oil
3 Tbsp. extra virgin olive oil
1 Cup onions-finely chopped
3 Tbsp. dry porcini mushrooms - finely ground into a powder
1 1/2 Cups panko bread crumbs
1/2 Cup grated Parmesan cheese
4 Tbsp. freshly chopped Italian flat leaf parsley
Salt and black pepper to taste
Preparation
Preheat oven to 400°f. Place mushrooms in a bowl, drizzle with the first measure of olive oil, season lightly to taste with salt and pepper. Toss to evenly coat with the olive oil. Lay out in a single layer with stem side facing up. Bake in the oven for about 10 minutes just to lightly tenderize prior to stuffing.

Meanwhile prepare stuffing. Heat sauté pan over medium high heat, add the second measure of olive oil and the onions. Cook for about 4 minutes stirring, until softened. Add the mushroom powder, cook for another 30 seconds. Transfer into a mixing bowl and add the bread crumbs, Parmesan cheese and parsley. Season to taste with salt and pepper. The stuffing should just hold together when squeezed, if too dry, add olive oil to moisten. Reserve.

Stuff each mushroom with an equal amount of the stuffing and place back on cookie sheet. When ready to serve, cook in a preheated 400°f. oven for about 15 minutes until heated through and the stuffing gets slightly crisp on top. Garnish with flat parsley leaves and enjoy!

Lincoln Culinary Institute's Website: www.lincolculinary.com.