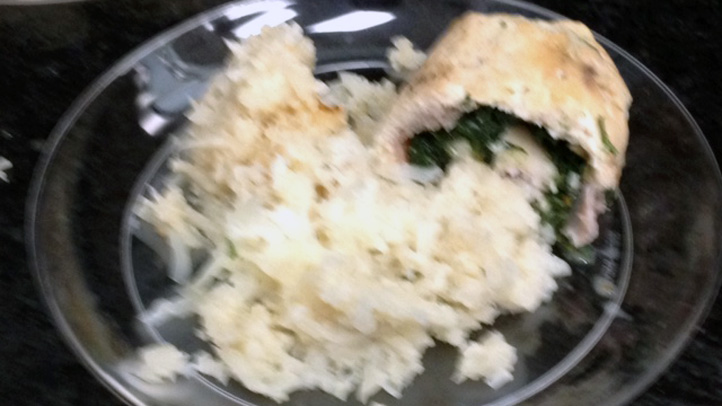 Ingredients
4 chicken cutlets, pound thinly
6 slices of very thin prosciutto
4 sage leaves
1/2 box of frozen spinach or kale thawed and squeeze with a paper towel to dry
2 tsp. olive oil
1 tbsp. unsalted butter
1 tbsp. flour
3/4 cup of chicken broth
2 tbsp. of lemon juice
2 tbsp. white wine
Salt and freshly ground pepper
Grated parmesan cheese
Place cleaned and thinly-pounded chicken cutlets on a work area surface.
Season with salt and pepper.
Put one piece of prosciutto on each cutlet.
Add some of the spinach on the next layer and top with a sage leaf and sprinkle with a little Parmesan cheese.
Roll up each cutlet and secure with a toothpick (tuck the sides in then roll. That will help with a seal).
Heat your skillet to medium heat and add olive oil and butter to coat the pan.
Add the chicken and cook until golden brown (two minutes on each side).
Add flour to the pan and whisk with the butter and scrapings. Add chicken broth and lemon juice to the pan. Bring to a boil, then add wine and whisk until the sauce begins to thicken. (under one minute).
Let simmer for a five minutes. Spoon sauce over chicken when ready to serve!
Don't forget to remove the toothpicks prior to serving.
For more on Chef Cindy, visit her Web site.