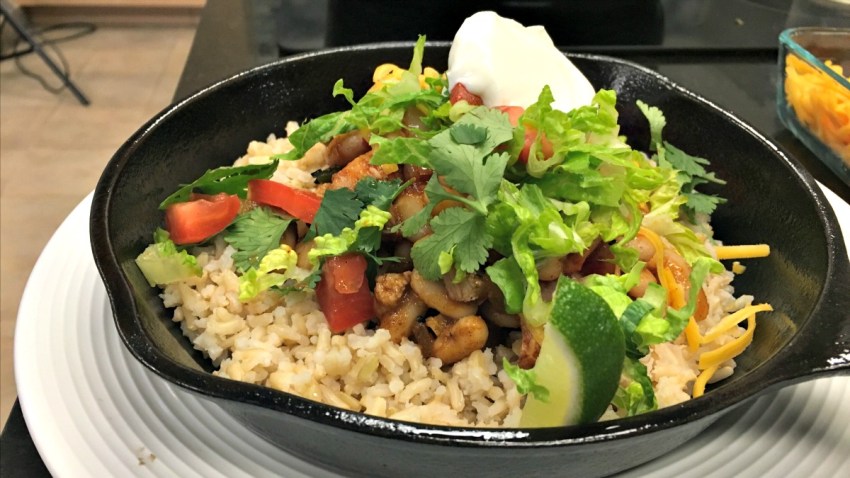 This recipe serves four or more.
Ingredients:
2 Tbsp. vegetable oil
½ cup onions, diced
1 Tsp. ground cumin
1 Tsp. ground coriander
2 Tsp. garlic, minced
2 Tbsp. tomato paste
1 Tsp. chipotle chile paste
2 cans white cannellini beans, drained (15 oz. cans)
1 cup chicken or vegetable broth
2 Poblano chile peppers, roasted, peeled, seeded, chopped ¼-inch
1 lb. cooked, shredded turkey
Salt, black pepper to taste
Shredded lettuce, jack cheese, crispy tortillas, tomato salsa, sour cream, lime wedges and cilantro to garnish
Instructions
Heat a heavy-bottom soup pot on medium-high heat. Add the vegetable oil, and onions. Cook, stirring occasionally until softened, about 5 minutes.
Add the cumin, coriander, garlic, tomato paste and chile paste. Cook, stirring for about 1 minute.
Add the beans, chicken broth and roasted poblano chiles to the pot. Cover, bring to a boil and simmer for 20 minutes.
Add the cooked shredded turkey and simmer another 10 minutes.
Season to taste with salt and black pepper.
Serve hot, garnished with any of the above suggestions.