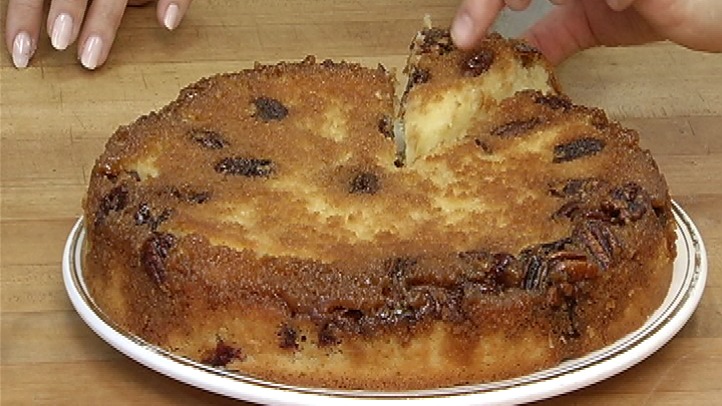 ½ Cup Brown Sugar
3 Tbsp. Granulated Sugar
1 Tbsp. Honey
2 Fresh Peaches-sliced
1 Pt. Fresh Blueberries
1 Stick Butter-softened
½ Cup Granulated Sugar
1 Egg
½ tsp. Vanilla Extract
1 ½ Cups Cake Flour
1 ½ tsp. Baking Powder
1/8 tsp. Salt
½ Cup Milk
• Preheat oven to 360°f. Prepare an 8" or 9" cake pan with vegetable spray and a parchment paper circle.
• Mix together the brown sugar, first measure of sugar and honey until smooth. Stir in a few drops of water just to thin slightly and make spreadable. Evenly spread this mixture on the bottom of the cake pan. Arrange a circle of peach slices around the outside of the pan and fill in the center with the blueberries.
• Prepare the cake batter by creaming together the butter and second measure of sugar. Add the egg and vanilla,mix until smooth.
• Sift together the cake flour, baking powder and salt. Add add about 1/3 of the flour, mix until smooth. Add half of the milk, mix until smooth. Add another 1/3 of the flour, mix until smooth. Add the remaining milk, mix until smooth. Finish with the remaining flour, mix until smooth. Scrape down the bowl often while mixing.
• Top the fruit in the cake pan with the batter, spread evenly without disturbing the fruit arrangement. Bake in the oven for about 35 minutes or until done tested with a toothpick. Let cool only for about 5 minutes, then un mold onto a serving plate. Great served with whipped cream. Enjoy!
Lincoln Culinary Institute's Website: www.lincolnculinary.com