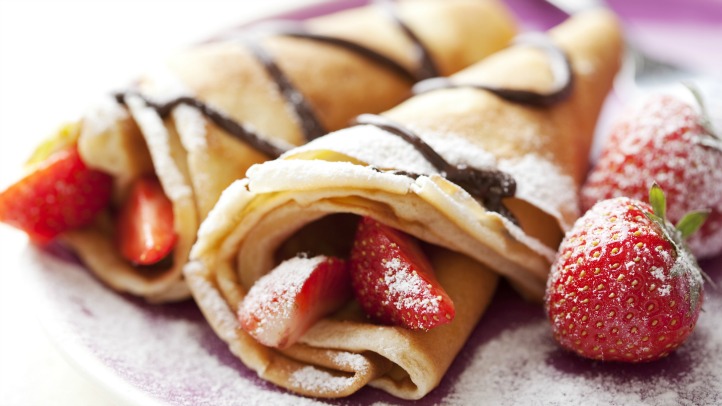 Ingredients
1 cup all-purpose flour
2 large eggs
1 cup milk
1/2 teaspoon sea salt
1 tablespoon unsalted butter, melted
Oil for making crepes

Directions
1. In a blender, mix together the flour, eggs and milk. Then add in salt and butter; blend for another 20 seconds until completely combined.
2. Heat a lightly oiled crepe pan or sauté pan over medium high heat (I like to spread a light layer of oil with a paper towel with each crepe).
3. Pour a scoop the batter onto the heated pan. About 1/4 cup for each crepe. Tilt the pan with a circular motion so that the batter coats the surface evenly and thin.
4. Cook the crepe for about 2 minutes, until the bottom is light brown. Loosen with a spatula, turn and cook the other side. Do in batches.

Strawberry and Chocolate Filling Ingredients
1 pint strawberries, sliced
1 tablespoon sugar
8 ounces semisweet chocolate (cut up into small chunks)
1/2 cup heavy cream
Confectioners' sugar

Directions
1. In a small bowl add strawberries and using a spoon coat with sugar.
2. Take a medium size pot and fill 1/3 with water. Bring to almost a boil then turn off burner.
3. Add a bowl that will sit in the pot but not touch the water on the pot. Add in chocolate and cream. Use a spoon to stir often until melted.
4. To assemble, Take crepe and add a tablespoon of strawberries on one side of the crepe then fold over. Drizzle with chocolate sauce then sprinkle confectioners' sugar.

Blueberry and Ricotta Cream Filling
1 cup ricotta cheese
2 tablespoons confectioners' sugar plus extra for garnish
1/2 teaspoon vanilla extract
1 lemon, zest
2 pints fresh blueberries
1 teaspoon lemon juice
1 tablespoon sugar

Directions
1. In a small bowl combine blueberries, lemon juice and sugar.
2. To assemble, take a crepe and spread 1/2 with the ricotta mixture then add a tablespoon of blueberries. Either roll or fold in half.
3. Top with additional blueberries and sprinkle additional confectioners' sugar - enjoy

Cindy's Tip!
Let the batter rest in the blender for at least 20 minutes before you start making crepes!