A severe thunderstorm warning is in effect for Tolland and Windham counties through 8 p.m.
Flash flood warnings have also been issued for parts of Tolland and Windham counties through 7:45 p.m.
It is the same area where severe thunderstorms warnings were issued earlier in the afternoon.
The storms contained lightning, heavy rain, and some hail. Track conditions in your area using our interactive radar.
Everyone will experience humidity with dew points in the mid-60s before drier air moves in Tuesday. The nice break in humidity will last through Thursday.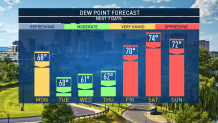 This week will also feature cooler temperatures Tuesday through Friday before we crank the heat for the upcoming weekend.