The NBC Connecticut meteorologists are forecasting a cold and windy day after the early morning rain and snow.
Some leftover precipitation spread across the state early Thursday morning.
Today will feature lots of clouds with a gusty wind. Temperatures will be in the 40s.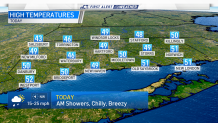 It will be fair tonight and chilly with lows in the 20s.
Friday will be chilly and breezy with highs in the lower 40s.
We will have fair weather this weekend and it will be milder.
You can get the latest forecast anytime here.